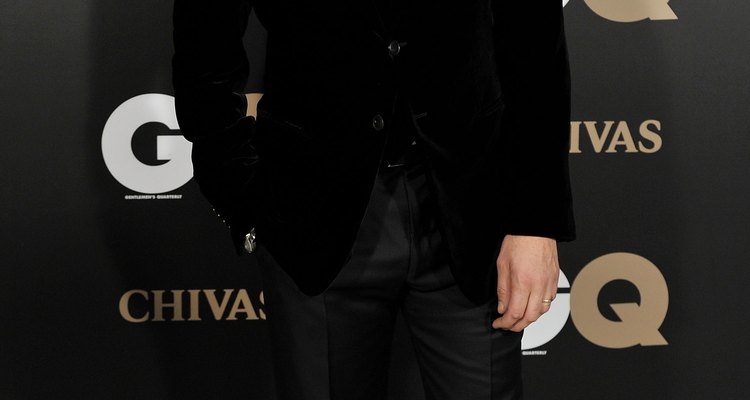 Carlos Alvarez/Getty Images Entertainment/Getty Images
If you are looking for a chic new staple piece to add to your wardrobe for fall, a black velvet blazer is one of the most versatile choices you can make. It goes with everything from denim to slacks for men. A woman can style a velvet blazer with just about anything in her wardrobe. The rich, plush texture of velvet adds sophisticated style to any outfit -- street style, cocktail and office attire alike.
Party Wear for Men
Guys, next time you are invited to a cocktail-attire event and you want to stand out in the sea of traditional black suits, swap out the jacket of your suit for a black velvet blazer. The subtle sheen and luxury feel of the fabric add texture as well as elegance to your look. Keep things classic and wear your black blazer with a white button-down and a black skinny tie. Update your look with a heather-gray shirt, a patterned bow tie and patent-leather slip-on loafers.
Special Occasion Outfits for Women
Every woman should have a luxe formal velvet jacket in her party wardrobe. You can wear it over a slinky little black dress to add texture and elegance. You can make it the centerpiece of your outfit by wearing it with black wide-leg trousers and a crisp white shirt. A lace or ruffled blouse adds femininity and vintage feel. Keep your accessories understated and minimal. Pearls, diamond studs and simple gold pieces are lovely complements to a black velvet blazer.
Dressed-Down Men's Style
There are fewer outfit options for guys to wear a fashionable black velvet blazer, so when you do pull it out of your closet, make it count and style it properly. To wear your blazer to something such as a gallery opening or a dinner party, pair it with slim-cut, dark denims with a bold-patterned button-down shirt. Wear stylish leather shoes such as dark leather monk-strap loafers or lace-up wingtip brogues.
Everyday Wear for Women
Even though velvet is a luxe fabric associated with fancy-formal wear, it also looks great with work wear, denim and casual T-shirts. Wear a black velvet blazer with tweed trousers to work with high-heel loafers and a newsboy cap for a sassy tomboy look. Make your velvet jacket stand out and wear it over a neutral sweater with dark gray jeans and flat loafers. A velvet jacket adds texture to a contemporary outfit such as a graphic-printed blouse and vivid-hue pants with pumps.
Velvet Tips
When shopping for velvet, look for a rich pile. It should feel silky smooth when you run your hand over it. Keep your thick, plush velvet in tip-top shape. Roll a lint brush over your jacket before you leave the house. Let the professionals take care of the cleaning, and never iron velvet. If your velvet blazer picks up some wrinkles, use a hand steamer or an iron set to low-steam to gently pull the creases out. Be sure to hold the appliance at least one-half inch above the fabric and keep it moving so it doesn't stay in one spot too long.
References
Writer Bio
Angela Bakke is a Los Angeles-based writer and reporter with more than a decade of experience covering fashion, beauty, the arts and entertainment. She has interviewed some of the most famous people in the world and covered stories for Beyond Cinema, Hollywood.com, ReelzChannel, CNN.com and Celebs.com.
Photo Credits
Carlos Alvarez/Getty Images Entertainment/Getty Images