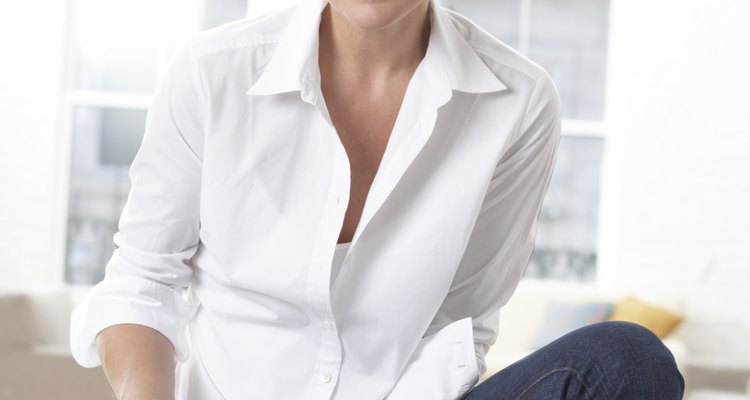 Marili Forastieri/Photodisc/Getty Images
A woman's crisp white blouse is an essential wardrobe item for work and weekends. When your cotton, nylon and spandex blouse looks a little dingy, you will need expert cleaning tips to whiten your go-to garment, without harming the fabrics. If the smell of bleach is too strong, or you want an eco-friendly method to revitalize your favorite topper, look no further than a few common household products to brighten your blouse safely and easily.
Set your washing machine on a warm temperature setting with a cool rinse cycle. Turn the blouse inside out.
Pour liquid detergent into your top-loading or front-loading washer. Add a 1/2 cup to one cup of vinegar or 1/ 2 cup of baking soda into the washing machine to brighten the blouse naturally.
Hang the blouse on a padded hanger and line dry outdoors. The sun's rays act as a natural bleaching agent.
References
Extraordinary Uses For Ordinary Things; The Editors of Reader's Digest; 2005
Writer Bio
Mimi Abney is a lifestyle writer specializing in online content for women. Her work has appeared in NewsOK.com and "Keepsake Magazine," among other publications. With over 15 years of writing and editing experience for the web and print, Abney is also a contributor to online health, beauty and fashion publications. She holds a Bachelor of Science in biology from Spelman College.
Photo Credits
Marili Forastieri/Photodisc/Getty Images