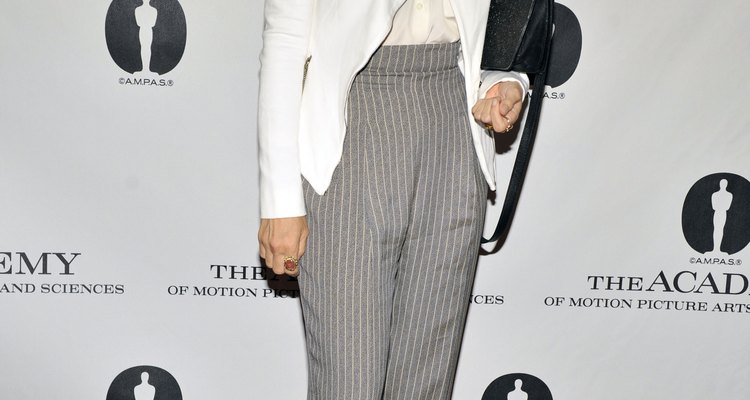 Toby Canham/Getty Images Entertainment/Getty Images
Since they come in a variety of styles, pinstripe pants are a versatile addition to your closet. Plus their subtle vertical stripes help elongate your frame, so they're flattering option for a variety of body types. While certain tops create a classic combination, a variety of cute options can take your pants from day to night.
Buttoned Up
Pinstripe trousers have a polished, professional look that makes them ideal work wear. If you're styling your pants for the office, pair them with a flattering, fitted button-down blouse. For a classic look, wear black pinstripe pants with a crisp white button-down and black pumps or spice up the traditional look with a button-down blouse in a bold color like cobalt or red. If you want a more formal look at the office, top your pinstripe pants with a blazer. Wear a charcoal blazer and white silk shell with gray pinstripe pants and pumps for a twist on your usual suit.
Comfy and Casual
You don't necessarily have to save pinstripe pants for the office – instead, dress them down as part of a cute, casual outfit. Wear black pinstripe jeans with a white scoop-neck tee or tank top and black ballet flats when you're headed to lunch with friends. If it's cool, layer a fitted denim jacket over your tee to keep warm. Gray pinstripe trousers get some pop from an emerald or cranberry V-neck sweater and black boots in the fall and winter. For a spring or summer look, wear white pinstripe capris with a hot pink halter top and wedges for fun, flirty outfit.
Soft and Girly
Pinstripe pants can definitely have a masculine feel, so you may want to wear yours with feminine tops that soften their look. Put on an ivory lace blouse and black peep-toe pumps with black pinstripe pants; a blush cardigan, matching silky camisole and a pair of strappy stilettos take the edge off charcoal pinstripes. Add a strand of pearls or a delicate pendant necklace for a bit more girly flair.
Bold Statement
While pinstripe pants have a professional look, they make the leap to an evening out if you change up the rest of the outfit. Black pinstripe trousers, a silver sequin tank top and black satin heels make you sparkle at a cocktail party. A bold red satin corset-style top, charcoal pinstripe pants and strappy silver stilettos add up to a sexy girls'-night-out outfit. If you're going for a more casual vibe, black pinstripe skinny jeans with a black ruffled wrap top and ankle booties look polished for a low-key date or dinner with friends.
References
Writer Bio
Based in New York City, Jennifer Blair has been covering all things home and garden since 2001. Her writing has appeared on BobVila.com, World Lifestyle, and House Logic. Blair holds a Bachelor of Arts in Writing Seminars from the Johns Hopkins University in Baltimore, Maryland.
Photo Credits
Toby Canham/Getty Images Entertainment/Getty Images