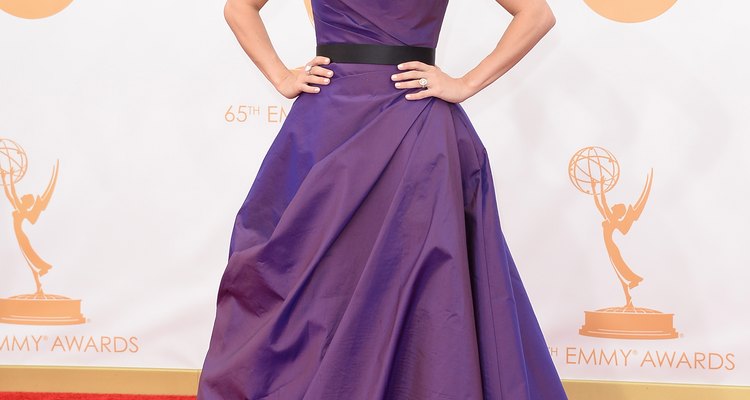 Jason Merritt/Getty Images Entertainment/Getty Images
Most jewelry styles work very well with a strapless gown, so when choosing your accessories, much of your decision will come down to personal preference. Whether you decide to wear a statement piece or a more traditional jewelry set, just be sure your accessories complement -- and don't compete with -- your gorgeous gown.
Statement Necklace
A statement necklace is the ideal option for most strapless gowns. If your gown is relatively simple, a truly stand-out necklace can elevate your look tremendously. Choose a bib, collar or multi-layered necklace that incorporates bold colors and complements the shade of your dress. Seek out pieces that feature eye-catching embellishments or shapes for extra drama. If your dress is relatively bold itself, you can still wear a statement necklace -- just choose one that won't compete or clash with the colors, patterns or embellishments on your dress.
Chandelier Earrings
If you choose not to wear a bold, statement necklace with your strapless gown, consider accessorizing with a pair of chandelier earrings. This style is particularly elegant when worn with an up-do hairstyle, which prevents them from being unintentionally hidden by your hair. Chandelier earrings are available in an endless range of colors, styles and sizes. Choose a pair that complements your gown, but also be mindful of your makeup. Because the earrings will draw attention to your face, it's important to ensure that they also harmonize with your makeup palette.
Simple Jewelry
Perhaps your dress itself is the statement-maker. In this case, it's perfectly fine to let your dress take center stage and pair it with some very simple jewelry. A classic strand of pearls is always a "do," as is a sparkling diamond or cubic zirconia strand. A pendant necklace is another subtle option, and matching stud or button earrings are the perfect way to complete your look.
Bracelets and Bangles
Bracelets can either be worn alone with your strapless frock or can be used to complement other jewelry pieces you've chosen. A classic tennis or pearl bracelet is a classic way to accessorize your wrist. Or, if you're looking for something a little bolder, put together a fun stack of bangles that bring out the colors and patterns of your gown. For an edgier look, choose a large, sleek cuff bracelet.
References
Writer Bio
Katherine Mitt has been contributing to online publications since 2009, focusing primarily on fashion and style topics. She holds a B.A. in English from a small liberal arts school.
Photo Credits
Jason Merritt/Getty Images Entertainment/Getty Images