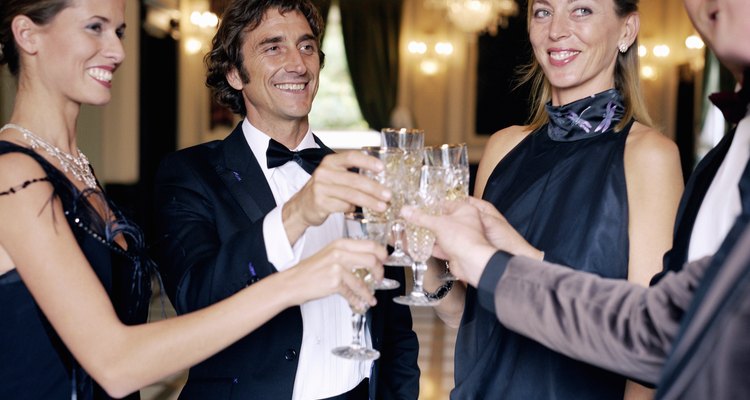 Allan Danahar/Digital Vision/Getty Images
A gala is an evening of glitz and glamour and gives a woman every reason to feel like a princess for the night. Whether it's your first gala or your fiftieth, there will always be the concern of how to dress. Most invitations will state whether it is a formal or semi-formal event, which will be a helpful guide in choosing your look for the night. The most important factor is that you feel good in what you are wearing and are comfortable enough to stand, walk, sit and socialize.
Dresses and gowns
Frazer Harrison/Getty Images Entertainment/Getty Images
A modern day gala gives you free range to an array of non-traditional dresses. If the event is formal, a gown will be suitable; but if the gala is semi-formal, you can get away with a fancy cocktail dress or a tailored pantsuit. Different personal styles call for different types of dresses, but always choose one you love and that compliments your figure, as well as providing comfort and fitting into your budget. Remember: This is a special occasion, so it is okay to splurge a little. Keep ball gowns to the ankle and cocktail dresses no higher than a few inches above the knee. Pick a color, design and pattern that suits the tones of your skin and shows off your own unique style. Even check out some celebrity red-carpet looks for inspiration.
High-heeled shoes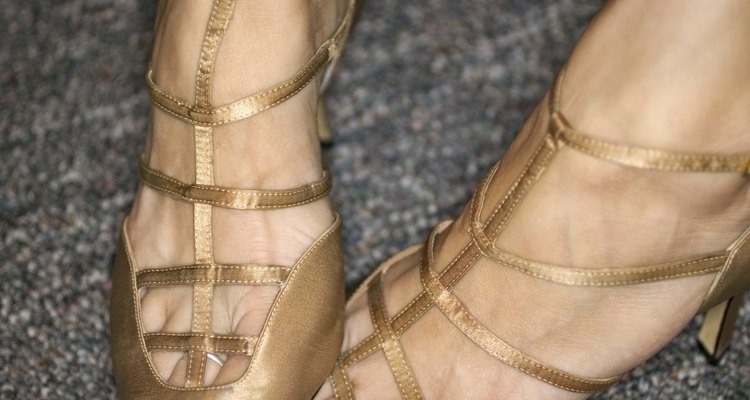 Jupiterimages/Comstock/Getty Images
For an evening of elegance, heels are a must. If you are going to spend money on your outfit, spend the most on your shoes. A good pair of heels will not only look classy, but will save you from wanting to slip them off under the table to give your sore feet a rest. Find a pair that will compliment your dress and also neutral enough to match other outfits in the future. The more use you can get out of a single pair, the more money you will save. Pair shoes with a matching clutch for a simple and sophisticated touch to tie the whole look together.
Accessories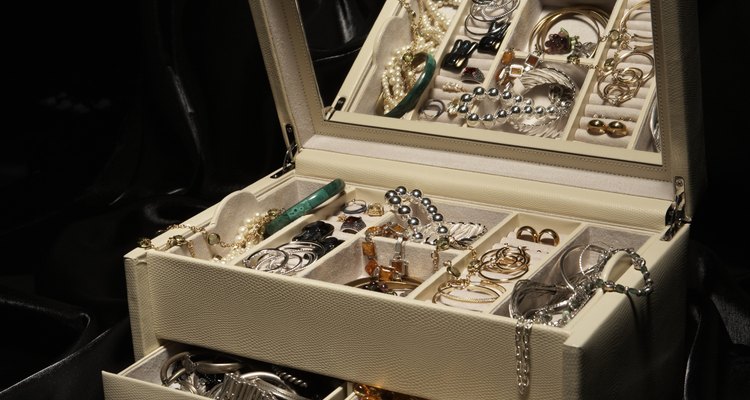 Thomas Northcut/Photodisc/Getty Images
With accessories, less is more. Picking one or two staple pieces will turn your outfit from ordinary to glamorous. Droopy earrings and a matching necklace are the little black dress of jewelry and can rarely go wrong. Try a dainty bracelet and minimal rings to look feminine and elegant. If your dress is a loud color or print, make your accessories muted tones. If you are wearing a very neutral dress, have some fun with your jewelry by adding a splash of color or funky shapes.
Hair, makeup and nails
Hemera Technologies/AbleStock.com/Getty Images
The key word to describe your hair and makeup should be "polished." Your aim is to look glamorous, so style your hair and makeup accordingly. You may want to have a professional stylist and makeup artist assist you for the night, but if you are on a tight budget, there a few tips and tricks to help you do it yourself. If you have a design on the back of your dress, choose an up-do so you can see the detailing. Remember to use enough hairspray to keep your hair in place the entire evening. When wearing your hair down, both sleek tresses and voluptuous curls are great choices--either way, apply a smoothing serum to contain fly-aways and add extra shine. When doing your makeup, pick a focal point, either your lips or eyes. If you do a bright red lip, keep your shadow minimal, and vice versa. A little sparkle can go a long way. Top off the entire outfit with a simple manicure and pedicure to have a head-to-toe, gala-ready look.
References
Resources
Writer Bio
Los Angeles-based writer Elana Kluner has been writing internationally since 2008. Her work has been published in M2Women Magazine, DANZ Quarterly, Central leader, Western Leader, The Other Duck and Spa Violet. Kluner graduated with a Bachelor's degree in creative writing from Auckland University of Technology and studied fashion design at the Fashion Institute of Design and Merchandising.
Photo Credits
Allan Danahar/Digital Vision/Getty Images