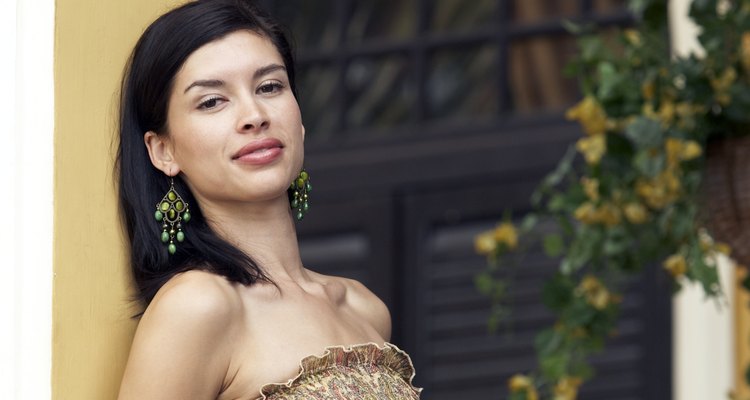 Goodshoot RF/Goodshoot/Getty Images
When you want a sexy look for a date, party or special event, a strapless dress can definitely fit the bill. Wearing a strapless style, though, can be a little intimidating since there's a lot of exposed skin and not much in the way of support -- but don't let that stop you from rocking a strapless frock. With a little preparation and careful accessorizing, you can pull off the style with confidence.
Go Smooth (and Tan)
A strapless dress shows off plenty of skin on your upper body, so you want to make sure that your chest, shoulders, arms and upper back look good. To make sure that your skin is smooth and even, start with a thorough exfoliation. Use a body scrub or loofah in the shower to buff away any rough patches and follow up with a moisturizing body lotion or cream. With all that exposed skin, you may also want to give your skin a sexy glow. You don't need to lay out in the sun, though. Instead, use a self-tanning cream a few days before you plan to wear your dress so your skin is the ideal bronze shade. If you decide at the last minute to wear your strapless dress, a tinted body-bronzing gel can instantly give you a glow that will wash away with your next shower.
Get Support
You might think about skipping a bra when you wear a strapless dress, but the right undergarments are key -- no matter what size your bust may be. While you can't wear your usual bra since the straps will show, a supportive strapless bra can make your dress look much more flattering and hold your chest in place so you don't have to worry about spilling out of the top of the dress. If you have a small chest, a push-up style may help you fill out the top of the dress a little better too. With a particularly form-fitting strapless dress, you may also want to wear shapewear under it that slims and smooths your stomach, backside, hips and thighs.
Look Fit
Choosing a strapless dress that fits well is key if you want it to flatter your figure. If the dress is too large or too small, you'll have to worry about pulling and tugging it into place all night or it gaping along the top and exposing too much skin. Try on your dress to ensure that it fits properly -- check to see if you can bend over and raise your arms without spilling out of it. Examine the back and sides of the dress for unsightly bulges too. For the slimmest, most flattering look, choose a strapless dress with boning on the bodice that helps give you an hourglass figure. Make sure the boning is comfortable, though -- it shouldn't poke you under the arms.
Add Bling
To really look stunning in a strapless dress, the right accessories make all the difference. The neckline lends itself to a variety of necklace options. You can choose an elegant single-strand pearl choker or a dramatic bib necklace -- a rhinestone style is ideal for black tie events, while an enamel stones in bold colors like tangerine, magenta or turquoise works well for a cocktail party or dinner date. Even a simple pedant necklace can work well, although you may prefer to skip the necklace and wear big, bold earrings instead. Large hoops or striking chandelier earrings can help add some sparkle to a strapless dress.
References
Writer Bio
Based in New York City, Jennifer Blair has been covering all things home and garden since 2001. Her writing has appeared on BobVila.com, World Lifestyle, and House Logic. Blair holds a Bachelor of Arts in Writing Seminars from the Johns Hopkins University in Baltimore, Maryland.
Photo Credits
Goodshoot RF/Goodshoot/Getty Images