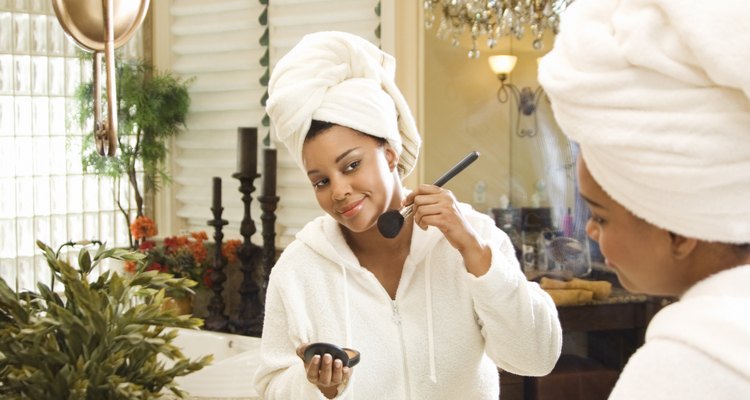 Jupiterimages/Comstock/Getty Images
Whether your jawline has more loose skin than you'd like or you're experiencing age-related sagging of your chin and neck, you can use makeup to make your chin look slimmer and trimmer without the risks and expense of plastic surgery. These are the same makeup tricks that help celebrities to look their best on camera and on the red carpet -- explaining all of those terrible no-makeup shots in tabloids. Use these painless, temporary and effective makeup tricks to look great every day, and be the star in your own special night out or even in a photo session of your own.
Picking Products
You can choose from a powder or cream bronzer, a pressed powder, a cream concealer or liquid foundation when you want to use contouring techniques to hide a sagging chin. Bronzer provides the most dramatic effect due to the high contrast between the skin and the product, but it can also be more difficult to blend and is available in a limited range of colors. If you're feeling a little unsure, pressed powder, liquid foundation or cream concealers are all more subtle options, as they are easier to find in tones closer to your own skin tone and, therefore, easier to blend.
Choosing Colors
Choose foundation, pressed powder or concealer that is two to three shades darker than your skin. Pick a bronzer that is a deeper version of your skin tone -- typically a shade of beige, tan, or brown -- but not more than a few shades darker than your skin. Avoid bronzers with strong pink or coral tones as they will create an unnatural appearance, rather than contour your face. Also, steer clear of any product with sheen, shine, sparkle or shimmer. A matte product is a better choice for contouring -- save the sparkle for highlights along the upper parts of your cheekbones.
Contouring with Creams
Cream concealers, cream bronzers and cream foundations can all be applied in the same way -- use a small foundation brush to apply the cream under the chin, starting just behind the jawbone. Brushing the product right along the underside of the chin -- not down to the neck -- will reduce roundness and draw attention upwards and away from a sagging chin. You can also carry the cream up to the sides of the jawline for a more defined jaw, blending the cream well with your fingers or a brush and working upward along the jawbone and down toward the neck. Set your cream with loose or pressed powder that is the color of your skin tone.
Partaking in Powders
Powder bronzers and pressed powders are popular and effective choices for contouring, but the downside is that powders tend to stay on for a shorter time than do creams. Choose a medium-sized, angled brush to apply a powder bronzer or pressed powder under your chin and jawline. Blend the bronzer or powder with a clean, fluffy brush to avoid visible edges, blending down toward the neck and up toward the jawline. Finish with skin-toned loose or pressed powder to help set your makeup.
References
Writer Bio
With a master's degree in art history from the University of Missouri-Columbia, Michelle Powell-Smith has been writing professionally for more than a decade. An avid knitter and mother of four, she has written extensively on a wide variety of subjects, including education, test preparation, parenting, crafts and fashion.
Photo Credits
Jupiterimages/Comstock/Getty Images