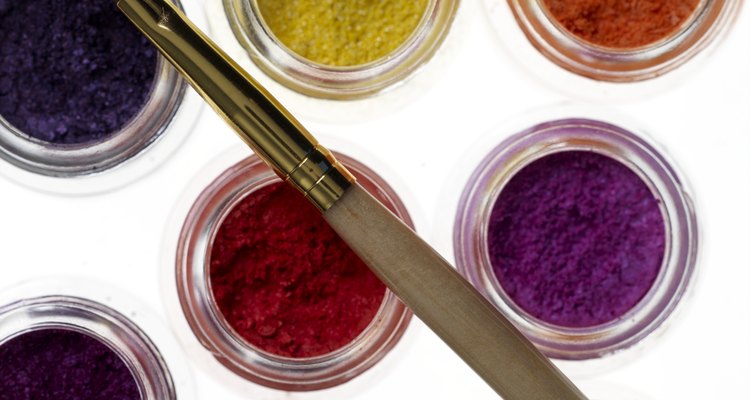 Paul Tearle/Stockbyte/Getty Images
When you really want your eyes to pop, the right combination of eye shadows can definitely do the trick. But if you're new to the shadow game, the options can be a little overwhelming. Pressed eye shadow is probably the most traditional option, but loose and cream formulas have also found their ways into high-end and drugstore makeup lines. Once you understand the differences between these types of eye shadows, you'll be able to create the most flattering looks for your eyes without any confusion.
Press It
Pressed eye shadow is usually the most common option when it comes to eye makeup. The pigments are mixed with binding agents and pressed together into a small pan, which is then placed in a compact. You can apply pressed shadow with a sponge-tip applicator, a brush or even a clean finger. This form of shadow is available in a variety of finishes, including matte, satin, shimmer and glitter, and because it is solid, it doesn't make much of a mess in your makeup bag or drawer. Pressed shadows work well for most skin types, but they are an especially good option if you have oily skin on your eyelids.
Get Loose
Loose eye shadow is similar to pressed eye shadow except the pigments aren't mixed with any binding agents, so it has a loose, powdery consistency. The shadow usually comes in small pots or jars -- the downside being that it can make a mess in your makeup bag if the lid isn't shut correctly. The shadows come in several finishes, but they usually have a high amount of shimmer or glitter, so they're not always the best option for mature eyelids because they can draw attention to fine lines and crepiness. A brush is usually the best applicator for loose shadows, but working with this form of shadow can be tricky because the particles can easily fall off the brush and drop down onto your cheek. When you're using loose shadow, do your eye makeup before your face makeup so you don't mess up your foundation if some of the shadow drops onto your face.
Go Creamy
Cream eye shadows use the same pigments as pressed and loose shadows do, but they are mixed with enough binding agents to give them a creamy consistency. They are available in a variety of forms, depending on the thickness or thinness of the formula. Some cream shadows are packaged in pots or jars, while others come in pencil form or in a tube with a wand applicator. You can use a synthetic brush, sponge-tip applicator or a clean finger to apply a potted cream shadow. With a tube or pencil style, you can apply directly from the container and use a clean finger or brush to blend the shadow out. Because of the creamy texture, these shadows usually have a dewy finish that is particularly flattering for dry and mature eyelids. However, cream shadows are prone to creasing, especially if you have oily lids.
Eye Shadow Tips
No matter what type of eye shadow you use, start with an eye-shadow primer. This product helps to form a barrier between the oils in your eyelid and your eye shadow so the makeup lasts longer and doesn't crease. Primer can also even out discoloration of your eyelids so your eye shadow goes on true to color. While pressed, loose and cream shadows may be used on their own, you can also combine them to create different looks. Using a cream eye shadow in a matching shade under your pressed or loose shadow makes the color more intense for a bold, dramatic look.
References
Writer Bio
Based in New York City, Jennifer Blair has been covering all things home and garden since 2001. Her writing has appeared on BobVila.com, World Lifestyle, and House Logic. Blair holds a Bachelor of Arts in Writing Seminars from the Johns Hopkins University in Baltimore, Maryland.
Photo Credits
Paul Tearle/Stockbyte/Getty Images