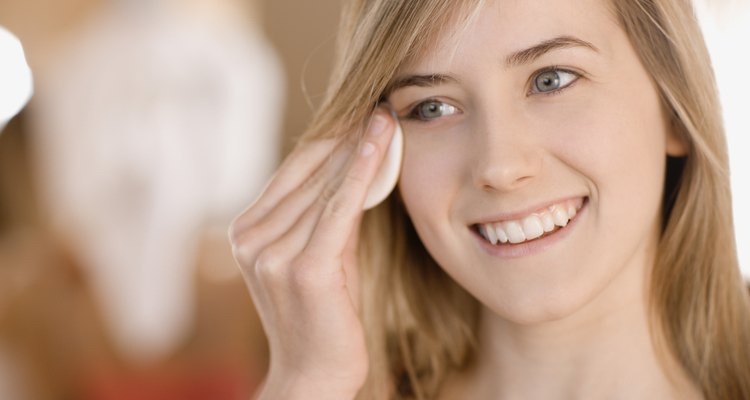 Jupiterimages/Stockbyte/Getty Images
When teenagers start experimenting with makeup, it's easy for them to go overboard. But young girls don't need lots of heavy eye liner and red lipstick to look polished and pretty. All it takes is the right products and a few simple steps to create a cute, fresh look that flatters teenage skin -- and since it's quick and easy, your daughter can pull it off for school even if she likes to sleep in in the morning.
Go Fresh
Teenagers should skip heavy foundation that may clog pores and make their skin look cakey. Instead, opt for a lightweight product that evens out your skin tone for a fresh, healthy complexion. Tinted moisturizer is an ideal option because it offers light coverage so you look natural. You can also opt for a mineral powder foundation and dust it lightly over your skin to blur imperfections and discolorations. If you're dealing with a breakout that needs a little extra coverage, use a creamy concealer just on the affected areas.
Get Your Glow On
Having a little color in your face can make you look healthy and awake. Since tanning in the sun is a bad idea, opt for a little bronzer to fake a sun-kissed glow. Apply a matte bronzing powder with a fluffy brush to the areas of your face that the sun would naturally hit like the bridge of your nose, cheekbones and temples. Dust a little over your neck too to make sure that it's the same shade as your face. To really look glowing, though, don't forget some shimmery blush. If you have light to medium skin, a pale rose or peachy pink shade is an ideal option. For dark skin tones, choose a rich cinnamon or terra cotta blush. Apply the blush to the apples of your cheeks for a pretty, natural glow.
Add Some Shimmer
You don't need to wear bright color or smoky shades on your eyes to turn heads. Using soft, shimmery eye shadow shades can open up your eyes for a bright, fresh look. Choose a shade based on your eye color. If you have blue eyes, a light shimmery peach is an ideal option. For green eyes, go with a pale, shimmery violet. Brown eyes really pop when paired with a shimmery mint green. Sweep the shadow across your entire lid and in the inner corner. Add a couple of coats of black mascara for a pretty, eye-opening look.
Go for the Gloss
The right lip color can brighten your face in an instant, but the formula is key too. Avoid heavy lipstick that can look too harsh. Lip gloss is a softer alternative for teenagers and it doesn't require lip liner so you can easily apply it on the go. If you choose a sheer formula, you can play with a wide range of colors without worrying about it overpowering your look. Keep your look natural with a subtle nude or peachy pink gloss, or have fun with a sheer fuchsia to really perk up your complexion. If you're headed out for the evening, a sheer red also works well.
References
Writer Bio
Based in New York City, Jennifer Blair has been covering all things home and garden since 2001. Her writing has appeared on BobVila.com, World Lifestyle, and House Logic. Blair holds a Bachelor of Arts in Writing Seminars from the Johns Hopkins University in Baltimore, Maryland.
Photo Credits
Jupiterimages/Stockbyte/Getty Images