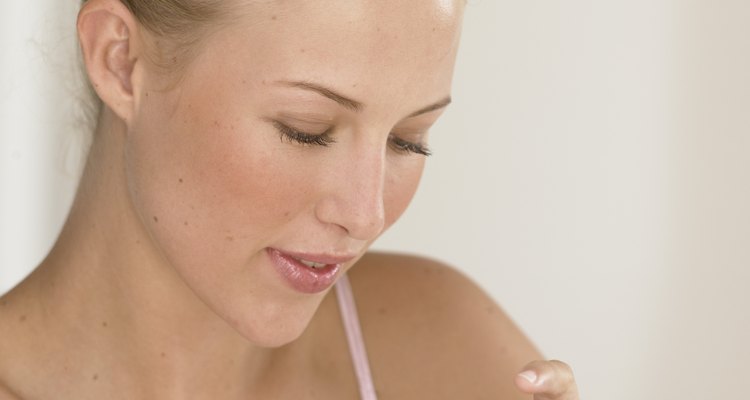 Pixland/Pixland/Getty Images
Hiding skin imperfections can be as simple as using a concealer. Select a concealing product designed to mask the type of discoloration you're experiencing. Most skin discolorations are the result of harmless conditions, such as melasma, which is triggered by hormonal changes, or sun damage, often showing up as freckling after years of UV exposure. Post-inflammatory hyper-pigmentation are dark spots that result from acne or injured skin. Consult a dermatologist to rule out melanoma if you have dark spots.
Concealers
Concealers, available in liquid, cream or stick form, come in a variety of shades to match all skin tones. Concealers are an ideal choice for minor hyperpigmentation, such as acne scars on your face. Choose a concealer that matches your natural skin tone. For a flawless application, use a concealer brush, readily available at most drug stores and cosmetic counters. Pat a thin layer of concealer onto your skin and feather it out with a brush just beyond the edge of mark. Finish with compact or loose powder to set the concealer. For all-over discoloration, consider a primer under your foundation. Primers are thick, cream-textured concealers that fill in lines and even-out discoloration to create a flawless finish.
Color Correctors
Color correctors are used to hide regular or severe skin discolorations, and work to neutralize the color associated with a particular discoloration. They provide heavier coverage, and come in yellow, lavender and green liquid or sticks. They are generally worn under a skin-toned concealer or foundation. Green will neutralize red hues associated with rosacea, birthmarks, acne, port-wine stains and scars. Yellow neutralizes pink-toned scars and under-eye circles. Lavender reduces yellow discolorations and can also defuse orange pigment caused from self-tanners. Apply a small amount only where needed, and blend well.
Foundation
Foundation in cream, powder or liquid form is ideal for all-over coverage. Foundations are not as opaque as concealers, so they supply minimal coverage. But they will even out skin tones and blend with concealers and correctors flawlessly. When choosing foundation, select a color that matches your skin tone. Test the color on your jaw-line and blend for a perfect match. Use fingertip application for heavier coverage, or a foundation brush for lighter coverage. Choose a neutral compact or loose powder to set foundation for all-day wear.
Tips
Clean and moisturize your skin before applying makeup. Use only a small amount of corrective cosmetics. Too much concealer, corrective color or foundation may look caked-on and mask-like. Set corrective cosmetics with powder for long-lasting and smudge-proof coverage, even when used on skin other than the face.
References
Writer Bio
Katherine Marko has been a professional writer for more than five years. She has attended the University of Toronto for English. Her work has appeared in several online publications. Marko is also a licensed aesthetician with expertise in nutrition and beauty.
Photo Credits
Pixland/Pixland/Getty Images