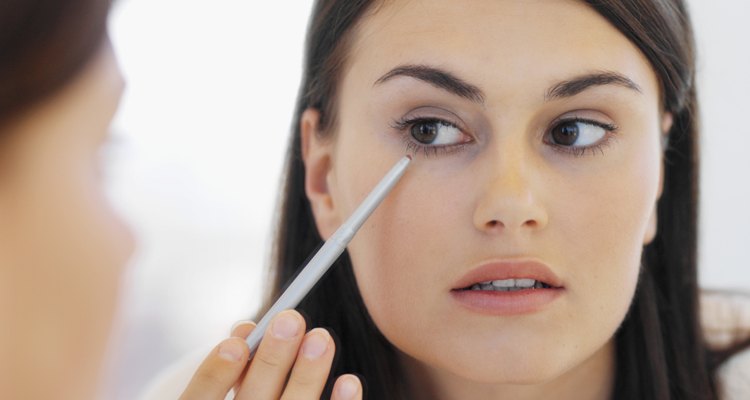 Stockbyte/Stockbyte/Getty Images
When your eyes stand out, your whole face appears brighter and fresher. Using makeup, you can highlight and accentuate your eyes - the trick is knowing what to apply and where. But never forget the one cardinal rule: let your eyes, not your makeup do the talking. Highlight your best feature and earn attention wherever you go.
Prep Your Face
Start by getting a flawless base. Prep the face with primer to smooth any lines and wrinkles and to ensure your makeup stays put. Then pat a creamy concealer that is half a shade lighter than your regular skin tone underneath your eye and on the lid to cover any dark circles and brighten. Follow with your foundation, which should match the color of your skin tone, any blush or bronzer and powder to set the look.
Pick Your Colors
Eye shadows, liners and mascaras can all help enhance the individual color of your eyes by the color product you choose. If you have brown eyes, opt for make up shades of green or purple to enhance the gold in your eyes. Hazel eyes should use shades of purple which will bring out the green in your eyes, while blue eyes should opt for warmer shades like copper, gold or pink. Green eyes are enhanced by eyeshadows with a violet, wine, burgundy or maroon tone to create complementary contrast. Almost all colors go with grey eyes, but black creates the most dramatic effect. Play around with colors to see what combination works best with your features.
Apply Your Eyeshadow
Sweep on eye shadow by applying color from the lash line to above the crease. Blend the color onto the lid with the applicator brush horizontally, using less intensity towards the inner part of the eye. Playing with light and dark shades in the same color will create a contouring effect. Start by applying the darker shade at your lash line and the edge of your outer crease. Then apply a lighter shade to the center and inner lid up towards the crease. Apply a neutral shimmer cream or highlighter to the brow bone to make the eyes appear larger.
Line and Accentuate Your Eyes
For a more dramatic look, use eye liner to really make your eyes pop. Start at the top lash line and work the liner in between the lashes to accentuate the eyes without drawing attention to the liner. For a cleaner, more simple look only line the top lashes. However, you can line the bottom lashes with a thin line to highlight the eyes without overpowering them. Finish off by curling your lashes to further open the eye and top with mascara.
References
Writer Bio
Laura Gianino works at a publishing company in New York City. Her writing has appeared on eHow, LIVESTRONG, Synonym and Global Post.
Photo Credits
Stockbyte/Stockbyte/Getty Images