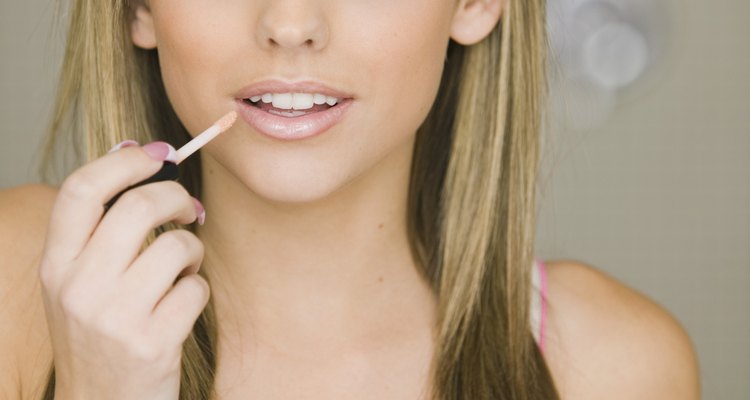 JTPhoto/Stockbyte/Getty Images
Concealer comes in handy for covering acne and other blemishes, but it also has other beauty uses. If you love the natural look of nude makeup, try covering your lips with a coat of concealer. By itself, concealer gives lips a pale look, or you can apply it before your lipstick to make the color look lighter. Finish up with a nude pencil liner and gloss for a sheer, neutral color that lasts all day.
Step 1
Apply a dab of pale concealer to your finger or a lip brush. Liquid or solid concealer works equally well.
Step 2
Pat your lips with the concealer, then gently rub the concealer into your lips and lip line.
Step 3
Use a nude lip pencil to line your lips. Start the line by coloring the curved part of your upper lip. Extend the line outward on either side of the curve.
Step 4
Color in the center part of your lower lip line. From the center, extend the line out on each side almost to the corners of your mouth. It's fine if you draw over the concealer a bit -- this actually helps the liner blend in better with your lip color.
Step 5
Smooth out the liner with a thin lip brush. This makes the liner look more natural.
Step 6
Apply your nude lipstick directly from the tube or with a small lip brush. When finished, you shouldn't be able to see that the lip liner is there.
Step 7
Coat lips with a thin layer of sheer peach gloss, or use a clear gloss if you don't want to add more color.
References
Warnings
Don't dust your lips with powder after applying foundation. Doing so may dry them out.
Writer Bio
Melissa King began writing in 2001. She spent three years writing for her local newspaper, "The Colt," writing editorials, news stories, product reviews and entertainment pieces. She is also the owner and operator of Howbert Freelance Writing. King holds an Associate of Arts in communications from Tarrant County College.
Photo Credits
JTPhoto/Stockbyte/Getty Images