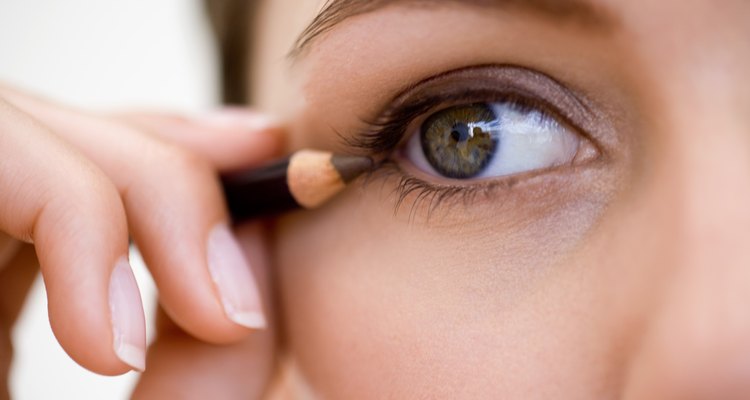 Jupiterimages/Pixland/Getty Images
Forget diamonds, eyeliner is a girl's best friend. It plumps up the lash line and adds a bit of vintage glamour to your everyday makeup routine. This nifty beauty product is often intimidating for people who have never used it before; the application needs to be precise to get the beauty benefits, whether you plan to wear it to the office or for an evening out with friends. A couple of makeup-artist secrets can make applying eyeliner for the first time less intimidating and much more rewarding.
Step 1
Sweep a matte nude eyeshadow over your eyelids with an eyeshadow brush. This step will clean up the eyelid and make an ideal base for eyeliner.
Step 2
Tilt your head back and look down toward the mirror; you still should be able to see, but your eyelids will be mostly closed.
Step 3
Draw a couple of tiny dashes as close to the lash line as possible. Start at the outer corner of the eye with a clean, sharp eyeliner pencil. The dashes should overlap and meld together, but small strokes are more manageable than a single straight line across the lash line.
Step 4
Keep drawing tiny dashes along the lash line, making sure to work as close to your natural lash line as possible. Work your way toward the inner corner of your eye. Stop about two-thirds of the way across your eyelid. Repeat this process on the other eye. Keep the application as thin and smooth as possible.
Step 5
Smudge the eyeliner with a stiff, clean angle brush starting from the outer corner of the eye. Sweep across the lash line using small dashes with the brush. This smudging process will smooth out any jagged areas or mistakes.
Step 6
Dip a concealer brush into the nude eyeshadow you used earlier. Sweep the eyeshadow just above the eyeliner line to smooth out any areas and mask any slight mistakes you may have made.
Step 7
Apply mascara or contouring eyeshadow as you normally would.
References
Tips
Take your time. Apply eyeliner when you have some time to make a mistake and remove the product, rather than before a big event. A steady hand will help you create the best makeup look.
Apply a black liner for a more dramatic look, and choose a dark navy blue or brown for a softer look.
Writer Bio
Sarah Vrba has been a writer and editor since 2006. She has contributed to "Seed," "AND Magazine," Care2 Causes and "202 Magazine," among other outlets, focusing on fashion, pop culture, style and identity. Vrba holds an M.A. in history with an emphasis on gender and fashion in the 19th century.
Photo Credits
Jupiterimages/Pixland/Getty Images