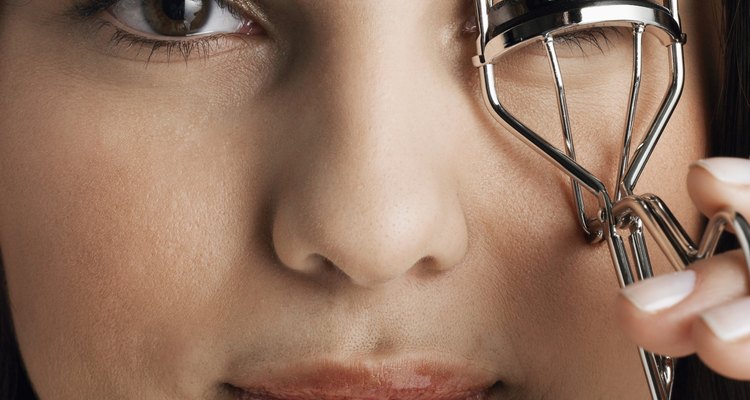 Christopher Robbins/Photodisc/Getty Images
Whether you're looking to streamline your morning beauty routine or stuck in a makeup rut, switch things up by laying off the eye shadow. Skipping your usual shadow application gives you the freedom to play with two other powerful tools in your eye-makeup arsenal: eyeliner and mascara. Using just those basics, you'll create a whole new way to make your eyes look big and beautiful in just a few short minutes.
Step 1
Curl your upper lashes with an eyelash curler. Position the curler close to the roots of the top lashes, being careful not to catch your eyelid, and squeeze down for 5 seconds. Move the curler up toward the tips of the lashes and squeeze again, holding for 5 seconds, to create a curl. Creating a slight upward bend in your lashes will make them look longer and open up your eyes.
Step 2
Line the underside of your top lashes on the waterline with black eyeliner pencil. Gently lift up your eyelid with your free hand to help access the waterline, the area between your lashes and your eye. Lining this area will make your lashes look thicker and fuller and subtly define the eyes.
Step 3
Maximize the size of your eyes by lining the lower waterline with a beige or light peach eyeliner pencil. Gently pull down the lower lid and carefully apply the pencil along the rim. Using a pale liner extends the whites of the eyes, giving the illusion of bigger, wider eyes.
Step 4
Apply black mascara to your upper and lower lashes. Start at the base of the upper lashes and wiggle the brush back and forth while moving upward to the tips. Use the tip of the wand to coat the smaller, hard-to-reach lashes on the inside of the eye. Apply two coats to the top lashes. Coat the bottom lashes by gently wiping the wand on a tissue to remove excess mascara and carefully zigzag the brush along the lashes from roots to tips.
Step 5
Create a striking evening look by drawing a thick line along the upper eyelid at the base with a black liquid or gel liner. Flick up at the outer corner of the eyes for a cool, cat-eye effect. Go for a more adventurous look with bold, colored liner along the top lid. Try bright blues like turquoise or a purple shade like amethyst, which will add drama to dark and light eyes alike.
References
Writer Bio
Hilary White is a professional writer and editor based in San Diego. White has been writing articles on fashion, style, fitness, nutrition, movies and entertainment since 1994. Her articles have been published in "Westways" magazine, "Pages" magazine, "Book Street USA," "Magill's Cinema Annual," and numerous titles from Visible Ink Press. White holds a bachelor's degree in English from Michigan State University.
Photo Credits
Christopher Robbins/Photodisc/Getty Images