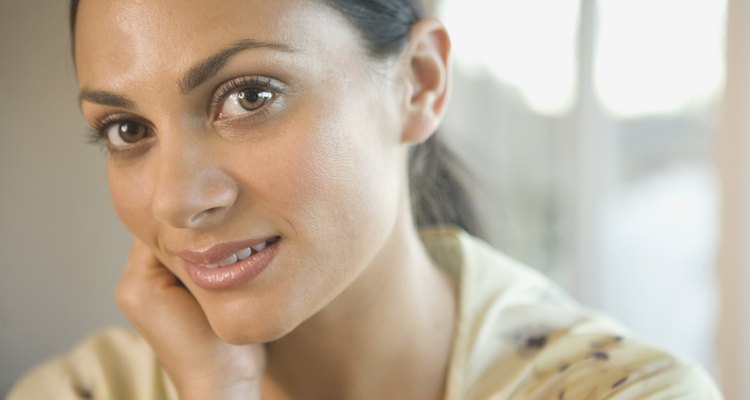 Jupiterimages/Stockbyte/Getty Images
Hazel eyes contain a range of colors -- green, brown, gold and sometimes even gray. When you have hazel eyes, the color eyeshadow you use determines which colors in your eyes stand out. Browns, golds and greens can bring out all the different colors in your eyes; emphasize the color that most closely matches the hue you wish to accentuate.
Step 1
Apply a small amount of primer to each lid and then blend it in with the pad of your finger. Give the primer a few seconds to dry.
Step 2
Pat brown eyeshadow all over the lid, using a dense shadow brush. Cover the entire eyelid up to the crease.
Step 3
Accentuate the crease area with a gold eyeshadow, using a fluffy blending brush to apply shadow in a circular motion to the outer corner of the lid. Use windshield wiper motions to blend the color into the crease.
Step 4
Use a pencil brush to highlight the inner corner of the eye with a shimmery cream shade. Apply this shade right underneath the brow bone, as well, and blend it out with a fluffy brush.
Step 5
Line right underneath your lower lashes with an emerald green eyeshadow. This color helps bring out the green color in your eyes, while adding some depth. Blend the color out with a pencil brush.
Step 6
Apply a medium brown eyeliner right above the upper lash line and onto the water line. Set the liner in place by using an eyeliner brush to apply a medium brown eyeshadow on top of it. Coat your top and bottom lashes with black mascara.
References
Writer Bio
Lindsay Boyers has a Bachelor of Science in nutrition from Framingham State College and a certificate in holistic nutrition from the American College of Healthcare Sciences. She is also a licensed aesthetician with advanced training in skincare and makeup. She plans to continue on with her education, complete a master's degree program in nutrition and, ultimately, become a registered dietitian.
Photo Credits
Jupiterimages/Stockbyte/Getty Images