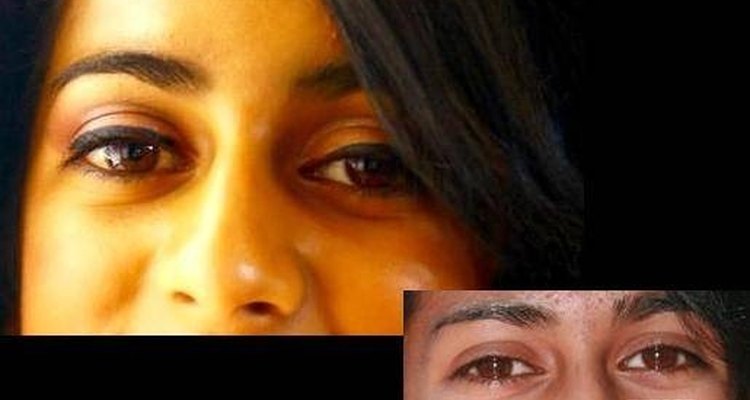 Leprechaun Art & Photography
While heavy-lidded eyes can be attractive, there are makeup application techniques to stick with if you want to brighten up your eyes instead of further weighing them down. Although you may already be aware that you are supposed to stay away from overly dark eye shadows and evident shading on your bottom lids if you don't want to make your eyes appear any heavier, it also helps to know what you can actually do to wake your eyes up.
Groom your eyebrows. Remove the strays underneath and in between your brow line. This alone will brighten up the eyes and the rest of the face. To further reduce any heaviness in the area, trim any hairs that grow past the brow line as well. Bring out the shape of your brows by filling them in with a brow pencil or powder using soft, short strokes to mimic the appearance of brow hairs. Choose a brow color that matches your natural one or is slightly lighter if your brows are already dark. If you think your application makes your brows look too harsh, comb them in place with a brush to lift excess color away. Everything you need for this step can be found in a brow grooming kit.
Get your lids ready for eyeshadow by applying an eye makeup primer on clean skin from lash line to brow bone. After the primer absorbs, lay an eyeshadow base down, also from lash line to brow bone. This creates a clean canvas for your eye makeup.
Camouflage shadows under the eyes by dabbing a creamy salmon-hued concealer onto the area. Pat some on the inner corners of the eyes by the bridge of the nose as well, since the recession here creates shadows. Gently blend away any lines in your application. A salmon tone concealer is a safer option than a flesh-colored one, because too light of a flesh tone concealer under the eyes creates the raccoon effect. Dust translucent powder on the concealer to set it for the day.
Apply a light shimmery eyeshadow from lash line to slightly past the crease. The sparkle brings your eyes to life, especially when the light catches your lids. Give your eyes something of a lift as well with contouring. Dip an eyeshadow crease brush in a powder eyeshadow of medium intensity. Tap off excess before pressing the color on the outer corners of your top lid in a sideways V shape (see Resources). With a clean fluffy eyeshadow brush, blend the mid tone eyeshadow upwards and inwards as opposed to outwards, which will elongate your eye.
Keep your eyeshadow from appearing unstructured by bringing out the shape of your eyes. You can do this by working a skinny eyeliner in black or brown into your top and bottom lashes. You aren't actually lining your eyes so much as making your lashes appear thicker. For added drama, use a black liquid eyeliner on your upper lash lines and lightly wing out the ends. This will give your eyes something of a Marilyn Monroe look.
Curl your eyelashes to give your eyes a wider open appearance. Apply a lengthening mascara to your top lashes to make them fluttery. You can use a regular mascara instead if you already have long lashes and don't want to draw too much attention to them. Eyes with heavy lids can have that seductive "bedroom" look when made up, so base your eye makeup application on the image you want to project and on what you are comfortable with. Finish by blending a sheer shimmery highlighter under the arches of your brows to give them a subtle lift.
Writer Bio
Lea WhiteFeather writes to share her colorful experiences with all who can benefit. She enjoys traveling as well, and has worked and resided in New York, Los Angeles, the San Francisco Bay Area and the Philippines, where she received her undergraduate education in art history.
Photo Credits
Leprechaun Art & Photography