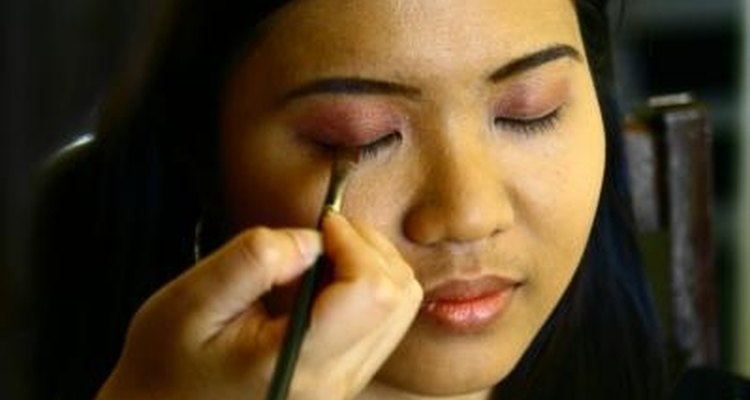 Leprechaun Art & Photography
Known as the "Pearl of the Orient," the Philippines is home to a variety of people with looks that aren't so easy to classify. It's understandable with the country's long history of foreign conquest. That said, there is a particular appearance associated with Filipinos who don't seem to have Chinese, American or European blood--dark hair, brown skin and almond-shaped eyes. If you've been trying to do your eye makeup based on the guidelines given by Western beauty magazines, you're probably frustrated. Put an end to the uncertainty with these basic tips on making the most of your distinctive eyes.
Begin with clean, oil-free skin. Apply foundation on eyelids, as well as underneath the eyes. If undereye area still appears dark, dab on some creamy concealer a shade or two lighter than your complexion and pat with the ring finger to blend. If the color is evidently lighter, stipple some of the foundation over it with a sponge or concealer brush, particularly if your skin is on the medium to dark side. No matter what, raccoon eyes are unattractive.
Clean and groom eyebrows. First, tweeze away strays. Next, use a disposable mascara wand to brush brows down, since Filipino brow hairs typically grow downwards instead of upwards. Take a pair of scissors to carefully snip off the hairs that extend past your natural brow line. Enhance brow shape with a color only slightly lighter than your natural one. You don't want a severe brow, but you don't want to go unnaturally light either. For this, you can use either a brow pencil or a stiff angled brush and a brow powder.
Smooth a makeup primer on eyelids. Focusing on the ball of the eye, apply a mid to dark tone eyeshadow from lash line to crease. Typically, Filipino eyes don't have much of a crease, so you're not going to try to create one. Instead, bring light to your eyes to open them up. Brush a lighter version of your first color above the ball of the eye, where a crease would typically be. You can use a shimmery formula so that the light catches onto the surface. On browbones, apply a flesh tone shade. With a domed eyeshadow brush, buff the edges of your shadows into each other to create a seamless blend.
Define lash lines with a fine-point creamy pencil. For the most natural look, use a black or brown one. SImply work the color into your lashes without creating an actual line. Filipino eyes generally don't have a lot of the mobile lid visible when open, so don't use up the space you do have with just the eyeliner. Run a white pencil on the inner rims of your lower lash lines to make eyes look bigger and brighter.
Curl eyelashes. Filipino lashes have a tendency to stick straight ahead instead of pointing upwards, even after a lash curler has been used. If the typical eyelash curler does not do much for you, use a heated one after applying your mascara. Run a lengthening formula through your top lashes. To avoid weighing eyes down, touch the mascara wand to bottom lashes without fully coating them with product. Finish by dabbing a highlighter on inner corners of eyes to capitalize on the doe-eyed look.
Writer Bio
Lea WhiteFeather writes to share her colorful experiences with all who can benefit. She enjoys traveling as well, and has worked and resided in New York, Los Angeles, the San Francisco Bay Area and the Philippines, where she received her undergraduate education in art history.
Photo Credits
Leprechaun Art & Photography