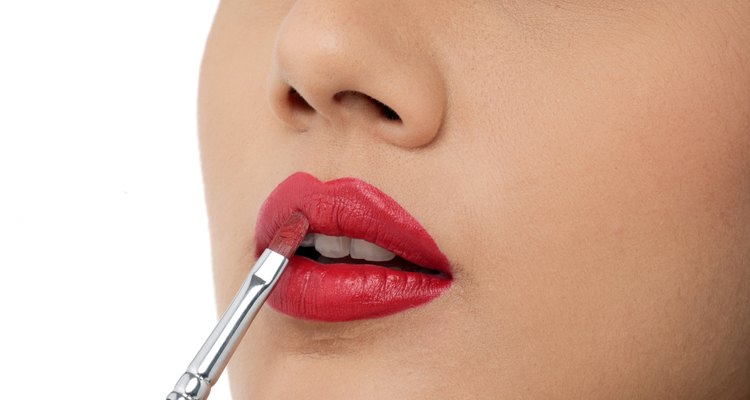 Visage/Stockbyte/Getty Images
There's something about red lipstick that can instantly make you feel a little more glamorous and sexy. But pulling off red lipstick isn't always easy -- its bold look can often make you feel self-conscious. The trick to wearing red lipstick confidently is to pair it with other makeup that allows the rich color to shine, while steering clear of the dreaded clown trap.
Fake Flawless Skin
Red lipstick makes such a bold statement that it can draw attention to blemishes and other flaws in your skin. The red color can also emphasize ruddiness or blotches in your complexion. Applying face makeup that helps fake the look of flawless skin is key when you're wearing wear such dramatic lipstick. That doesn't mean you have to wear thick, cakey foundation, though -- choose a light to medium-coverage foundation or tinted moisturizer to even out your skin tone without looking or feeling too heavy. If there are flaws that still show through -- such as acne, scars, hyperpigmentation and dark circles -- use a full coverage concealer just on those spots.
Go Low-Key With Eyes
When you wear red lipstick, you'll look overdone if you go for a dramatic look on your eyes too. Choose a matte eye shadow in a shade that's close to your skin tone and apply it from your lashes to the brow bone. If your eye needs some added definition, you can use a mid-tone matte brown shadow to contour the crease. Add brown eye liner and some mascara to finish off the look. For an evening out, glam up the look just a bit with black liquid liner to create a subtle cat eye. Coupled with your scarlet lips, you'll have all you need to rock a retro pin-up style.
Keep Cheeks Soft
Just as with your eye makeup, you don't want bold, bright blush to compete with your red lipstick. However, if you have fair to light skin, red lipstick can sometimes make your skin look washed out, so you shouldn't skip blush all together. Instead, opt for a soft neutral shade like rose and sweep it over the apples of your cheeks and back toward your hairline. If you have medium to dark skin, you can skip blush and use bronzer to add subtle definition along your cheekbones and temples to complement the red lipstick.
Remember Lip Liner
With some lipstick shades, you can skip lip liner. However, when you're rocking a scarlet smile, liner is a must to keep the color from bleeding past the edge of your lips. Don't choose a red lip liner, though -- if it doesn't match your lipstick exactly, you'll wind up with obvious two-tone lips. Instead, use a lip liner in a nude color that's close to the shade of your natural lips and blend it in lightly before applying your red lipstick with a small brush. The extra effort will be worth it when a perfect crimson pout is the beautiful payoff.
References
Writer Bio
Based in New York City, Jennifer Blair has been covering all things home and garden since 2001. Her writing has appeared on BobVila.com, World Lifestyle, and House Logic. Blair holds a Bachelor of Arts in Writing Seminars from the Johns Hopkins University in Baltimore, Maryland.
Photo Credits
Visage/Stockbyte/Getty Images