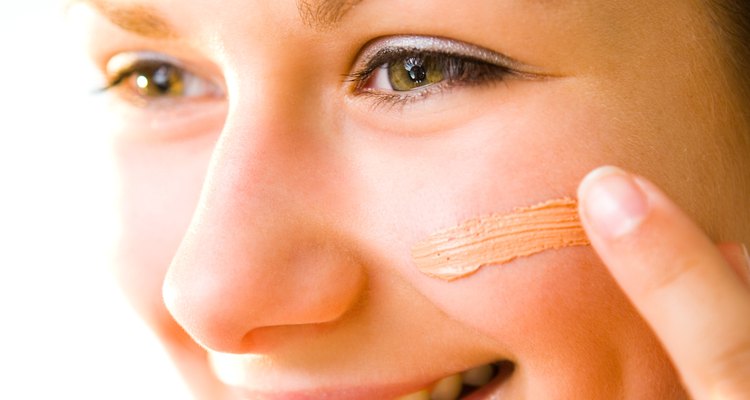 Jupiterimages/Photos.com/Getty Images
Whether it's from chronic rosacea, sensitivity to ingredients, environmental factors or heredity, a ruddy complexion can make you self-conscious. If you're frustrated with redness in your skin, a little strategically applied makeup can help conceal it. That means choosing the right products and the right shades to help balance out the ruddiness. If you suffer from rosacea or skin sensitivity, consult your dermatologist to determine what ingredients you should avoid in makeup so you don't make your redness any worse.
Go Green
When you want to eliminate ruddiness in your skin, take a cue from color theory. Because green is opposite red on the color wheel, it can help cancel out the red tones in your skin. Start your makeup routine with a green-tinted foundation primer. A primer helps smooth and hydrate the skin to prepare it for the foundation. Usually, it's a translucent formula that doesn't add color to your skin. While a green primer doesn't provide any real coverage, the tint helps counter the redness so your skin has a more even tone.
Cover Up
A green foundation primer can help counter skin redness, but it doesn't have coverage to hide blemishes, scars and other red marks. It can also leave your skin with slight green tint, so you need to apply foundation to even out your skin tone, hide the remaining redness and make the primer look more natural. Ruddy skin is usually sensitive, so you should choose a foundation that's free of oil and artificial fragrances that can cause irritation and clog pores. Liquid and cream types might work, but mineral powder foundation may be a better option because these formulas usually contain natural, nonirritating ingredients. If you have particularly stubborn red spots, use an oil-free concealer just on those areas to hide additional redness.
Add a Healthy Glow
When you have a ruddy complexion, blush probably doesn't seem like a good idea. However, once you use primer and foundation to cancel out the redness in your skin, your complexion may look flat and washed out -- and blush can help make your skin look natural. Choosing the right shade is key. For your ruddy complexion, avoid shades with red or pink undertones that can emphasize the redness in your skin. Instead, opt for peach, tawny or bronze shades that add a healthy glow without making you look any redder.
No Red Lips
The right lip color can instantly brighten your complexion and make you look more awake. As with blush, a lip color that has red undertones can emphasize the ruddiness in your skin. Peach, mauve and coral lipstick or gloss can work well, but if you like the drama that red lipstick adds, try a berry shade instead -- choose a gloss or lipstick with brown undertones so it looks more neutral and doesn't add redness.
References
Writer Bio
Based in New York City, Jennifer Blair has been covering all things home and garden since 2001. Her writing has appeared on BobVila.com, World Lifestyle, and House Logic. Blair holds a Bachelor of Arts in Writing Seminars from the Johns Hopkins University in Baltimore, Maryland.
Photo Credits
Jupiterimages/Photos.com/Getty Images