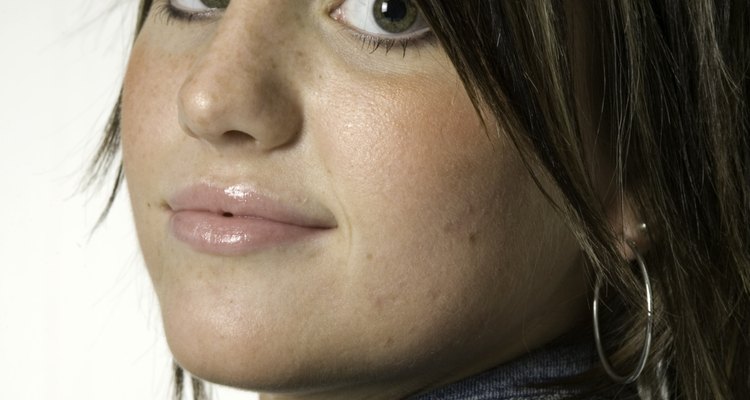 Photodisc/Photodisc/Getty Images
Teenage girls have the fountain of youth on their side and, when it comes to makeup, look best with less. Natural-looking makeup blends well with a teen's skin color and is used to enhance a teen's already beautiful features instead of cover them up. But just because a makeup product looks light and natural, it doesn't mean the ingredients are healthy or safe for the skin. The only way to know exactly what your teen is using is by reading product labels and understanding which ingredients to stay away from.
Head for Cover
Apply a tinted moisturizer made up of finely ground minerals. Mineral makeup is free of preservatives or fragrances that often irritate skin. Not only does a tinted moisturizer help to even out skin tone, but the moisture is great for dry skin. If oily skin is a problem, use an oil-free variety. Whichever you use, make sure it has a built-in SPF 15 or higher. Also, use a cover stick on any blemishes or red areas that need extra coverage.
Blushing Beauty
Find a blush that matches your naturally flushed cheeks. If possible, walk to the makeup store or go makeup shopping after working out so that your cheeks are in this natural state when trying on colors. Choose a blush made from minerals so that it won't exacerbate acne or clog pores. An added benefit to mineral makeup is that it can feature titanium oxide and zinc oxide which acts as sunscreen. In addition, renowned beauty expert Bobbi Brown says using a cream-based rouge on the cheek apples gives a natural-looking highlight without appearing dry.
The Eyes Have It
Choose a brown or black mascara to enhance eyelashes. Make sure it is safe for teens with sensitive eyes or those wearing contact lenses. Look for a conditioning formula without harmful properties such as propylene glycol and polyethylene glycol. Apply mascara at the roots of your lashes and gently wiggle the wand upward to the ends. For a nighttime look, teens can line lashes with an earth-toned eyeliner free of dyes or synthetics. Look for liners with jojoba and vitamin E, which soothe skin and glide on easy.
Lip Service
Steer clear of lead in lipstick and synthetic dyes. An easy way to tell if a dye is synthetic is if the name contains a number. Also look for labels without lead acetate and manganese violet. For a truly natural look, Brown suggests teens wear a clear or light pink lip gloss, and stay away from matted, dark, or bright lips. There's no need for teens to line lips. The most subtle look is not a perfect pout.
References
Writer Bio
Based in Los Angeles, Lisa Finn has been writing professionally for 20 years. Her print and online articles appear in magazines and websites such as "Spa Magazine," "L.A. Parent," "Business," the Famous Footwear blog and many others. She also ghostwrites for mompreneurs and business owners who appear regularly on shows such as Ricki Lake, HGTV, Carson Daly and The Today Show.
Photo Credits
Photodisc/Photodisc/Getty Images