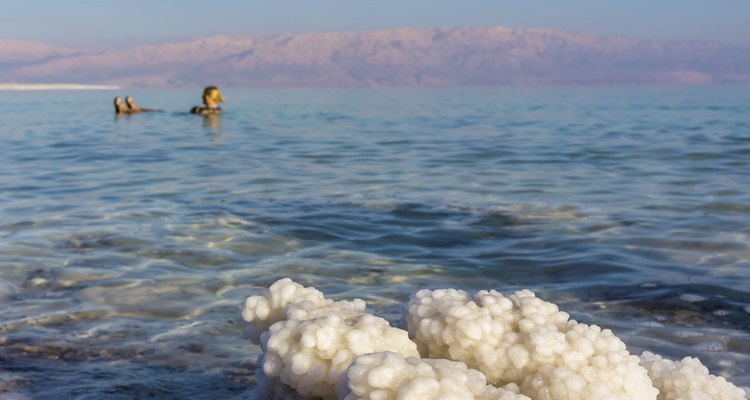 HarryBin/iStock/Getty Images
Deja Vu Cosmetics offers facial, body and nail-care products using minerals from the Dead Sea. Deja Vu's products are sold throughout the United States, Europe, Mexico, South America and the Caribbean. Products can be purchased from malls, select spas and beauty shops as well as online.
Facial Care
Deja Vu's facial skin-care line begins with three different types of cleansers: a mud soap, a salt soap and a cleansing gel. The black mud soap helps to improve circulation and restore a youthful appearance to people with problematic skin, since the Dead Sea black mud is antibacterial. The salt soap utilizes salt from the Dead Sea to gently cleanse and revitalize skin. Deja Vu's Cleansing Gel helps remove makeup and impurities from the skin with salt and minerals from the Dead Sea.
To deeply cleanse the skin, Deja Vu offers a quick-drying Mud Mask. This mask uses therapeutic mud taken directly from the Dead Sea to cleanse, disinfect and hydrate all skin types.
Formulated with Dead Sea black mud, avocado oil and ginseng extract, Deja Vu's Facial Peeling helps cleanse and purify clogged pores while removing dead skin cells to help reveal clearer skin. Facial Peeling helps to stimulate the production of plump, healthy skin cells.
Deja Vu offers several types of moisturizers and facial serums. Its All-Day Moisturizer is formulated for normal and dry skin types. It can be worn under makeup and contains hydrating ingredients such as jojoba oil, chamomile and echinacea extract. Vita Gel contains provitamin B5, retinyl palmitate and tocopheryl acetate to hydrate and nourish normal and dry skin types. Night Repair Anti Wrinkle is formulated to be used as a nighttime moisturizer with jojoba oil, chamomile and echinacea extracts, as well as hydrolyzed wheat protein and Dead Sea salt. Other products in Deja Vu's skin-care line include Serum, Eye Gel and HydroMask Face Lift.
Body Care
In addition to their Black Mud and Salt Soaps, Deja Vu offers seaweed soap with Dead Sea minerals and dried Red Seaweed to cleanse the body and stimulate the metabolism and blood circulation.
Deja Vu's skin-care line includes rich Body Butters and stimulating Body Scrubs in Passion Touch, Green Tea and Caribbean Mist formulas. Deja Vu's Body Butters incorporate Dead Sea minerals with hydrating emollients like shea butter and olive oil. The Body Scrubs help cleanse and exfoliate skin with Dead Sea salt, tea tree oil and olive oil. Additionally, Deja Vu's Foot Cream combines therapeutic Dead Sea minerals with antifungal tea tree oil extract and moisturizing shea butter and olive oil.
Deja Vu also offers moisturizing body lotions in Spring Breeze, Passion Touch, Green Tea and Caribbean Mist.
Bath Products
Deja Vu's Dead Sea Salt Bath Soaks in vanilla, kiwi and lavender incorporate the healing minerals of the Dead Sea with skin-softening agents to help replenish minerals and rejuvenate skin.
Writer Bio
When not working in her family-owned food and bar business, Viola Horne can almost always be found with a cookbook in one hand and a whisk in the other. Horne never tires of entertaining family and friends with both comfort food and unusual delicacies such as garlic cheese smashed potatoes and banana bacon pancakes.
Photo Credits
HarryBin/iStock/Getty Images