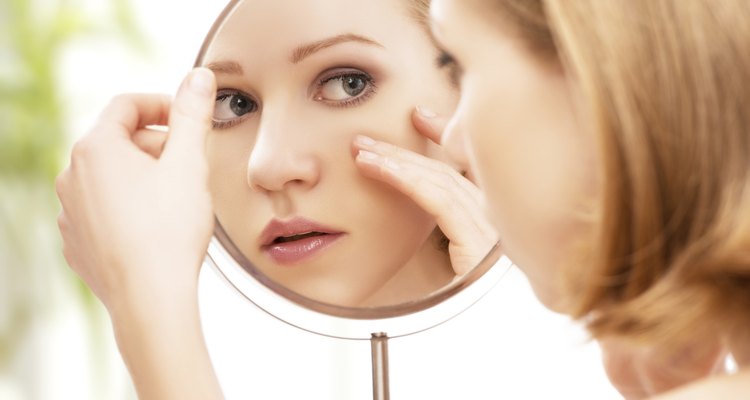 evgenyatamanenko/iStock/Getty Images
Matrixyl 3000 is an anti-aging ingredient used in serums, lotions, gels and creams. Clinical studies conducted by Sederma -- the company that owns the Matrixyl 3000 trademarked name and supplies the ingredient to the cosmetic industry -- show Matrixyl 3000 beneficial in repairing photo-damaged skin. Crow's feet and forehead wrinkles were decreased 33 percent and 31 percent, respectively, after two months of using a wrinkle cream composed of Matrixyl 3000. While these are noteworthy results, keep in mind that this data hasn't yet been confirmed by researchers independent of Sederma.
Getting the Best from Matrixyl 3000
Matrixyl 3000 is Sederma's trademark name for peptides that regulate cellular activity to heal wounds and remodel connective tissues. To achieve the maximum benefits from Matrixyl 3000, look for creams and serums that combine this ingredient with other powerful anti-aging elements such as DMAE -- called "facelift in a jar" for its ability to reduce facial sagging -- and CoQ10, an antioxidant said to neutralize wrinkle-causing free radicals. Matrixyl 3000 is also a suitable alternative to retinoids, as it offers similar benefits of reduced wrinkles and increased collagen and elastin production.
References
Writer Bio
Lilian M Raji is a strategic marketing and public relations adviser for luxury lifestyle companies in the areas of fine jewelry and watches, fashion, accessories, beauty, cosmetics, restaurants and hotels. Equally passionate about writing as she is developing and executing business strategy, she has been published on Forbes.com, Luxury Society, "The Village of Merrick Park Magazine" and "Canadian Jeweller Magazine."
Photo Credits
evgenyatamanenko/iStock/Getty Images