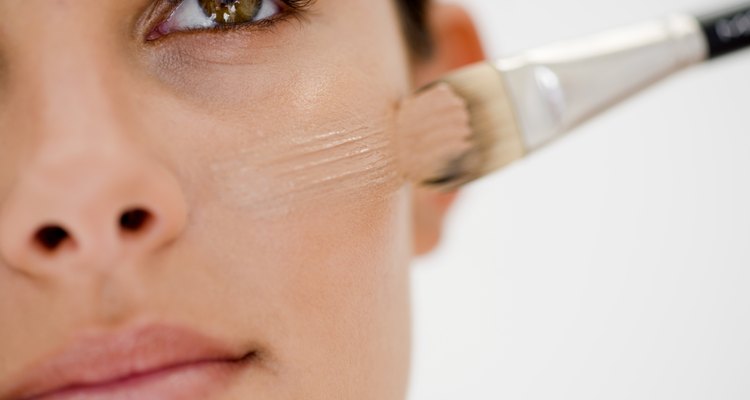 Pixland/Pixland/Getty Images
The Maybelline company began in 1915 as a family-owned business that specialized in producing commercial eye cosmetics. Sixty years later, the Maybelline brand grew to include cosmetic products for the face, including foundation makeup. While Maybelline produces a wide variety of foundations, all include a basic set of ingredients: an octinoxate active ingredient with inactive ingredients that function as skin conditioners, suspending agents, thickening agents, preservatives, antioxidants and opacifying agents.
Active Ingredient
The active ingredient in most Maybelline foundation products is octinoxate, a clear liquid that, according to the site CosmeticsInfo.org, is a main ingredient in many skin-care products because of its ability to protect the skin from the effects of ultraviolet sun rays. When applied to the skin, octinoxate is capable of both absorbing and reflecting UV rays, preventing collagen damage and the diminishing the effects of aging skin.
Skin Conditioners
A number of the inactive ingredients in Maybelline foundation function as skin conditioners. These compounds include cyclopentasiloxane, dimethicone, glycerin, tocopherol, isotridecyl isononanoate, PEG-9 polydimethylsiloxyethyl dimethiconeand disodium stearoyl glutamate. Skin conditioners like these work to keep skin hydrated by pulling in moisture from the surrounding air and holding it in the skin.
Nonsurfactant Suspending Agents
Nonsurfactant suspending agents, according to CosmeticsInfo.org, are compounds that increase a compound's ability to stay dissolved within a solution. In Maybelline foundation, disteardimonium hectorite, acrylics copolymer and dimethicone/polyglyceryl-3 crosspolymer act as suspending agents to keep the different ingredients in the makeup bound together.
Thickening Agents
Sodium chloride is used in Maybelline foundation to thicken the fluid portions of the solutions. This thickening makes the product easier to pour and use.
Preservatives
Maybelline foundation includes a number of compounds that are able to slow or prevent the growth of bacteria, yeast, mold and other microbes that can cause the product to become spoiled or rancid. These preservative compounds include phenoxyethanol, methylparaben, ethylparaben, propylparaben, isobutylparaben, butylparaben and chlorphenesin. Disodium EDTA, another compound in Maybelline foundation, helps prevent the breakdown and deterioration of the solution by binding to and inactivating metal ions.
Antioxidants
Ascorbyl palmitate and tocopherol act in Maybelline foundation as antioxidants: they help prevent the free radical damage that can occur to skin during the normal cellular interactions with oxygen.
Opacifying Agents
An opacifying agent within a solution masks the appearance of the substances contained within a formula, as well as to hide skin blemishes. Both aluminum hydroxide and titanium dioxide are used as opacifying agents in Maybelline foundation.
References
Writer Bio
Michelle Kerns writes for a variety of print and online publications and specializes in literature and science topics. She has served as a book columnist since 2008 and is a member of the National Book Critics Circle. Kerns studied English literature and neurology at UC Davis.
Photo Credits
Pixland/Pixland/Getty Images