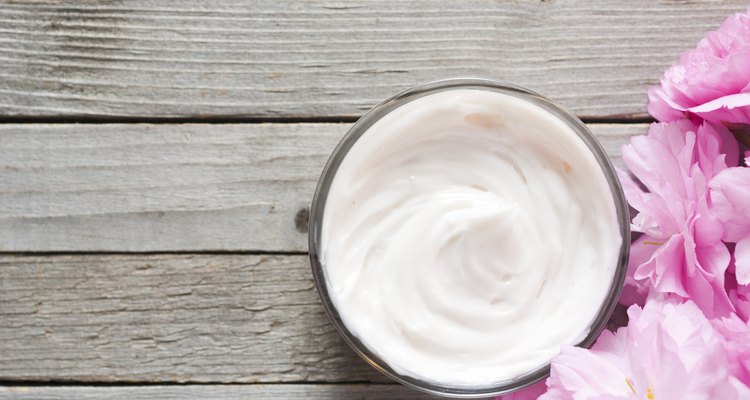 Olay Total Effects is a skin care product line from Procter and Gamble, the makers of Oil of Olay. Though there are several products in the marketing line, some ingredients are more used than others. If you have sensitive skin or allergies, always check the ingredient list before purchasing or using the product.
Octyl Salicylate
A chemical sunscreen, octyl salicylate is also known as octisalate. It covers the UVB spectrum of sun rays, specifically in the wavelengths of 295nm to 315nm with a peak of 307nm to 310nm. According to the Smart Skin Care website, it does breakdown some in sunlight and is relatively safe. It is typically used with other UVB sunscreens as it is not effective as a sole sunscreen against. It does not protect from UVA damage.
Laureth-7
The Cosmetic Ingredient Review, or CIR, expert panel deemed laureth-7 safe for use and usable in many bath and body products as well as cosmetics, according to Cosmetics Info online. It is an emulsifier that works in keeping a formula well-blended. Laureth-7 is added to many of Olay Total Effects products to keep the compound mixed.
Parabens
Parabens are a type of preservative used to keep a product from spoiling. Shelf life is extended by reducing the growth of microbes such as mold, fungi, bacteria and yeast. The parabens, according to Paula Begoun's Cosmetics Cop website, are butylparaben, propylparaben, methylparaben, ethylparaben, isobutylparaben, isopropylparaben and benzylparaben. They do not release formaldehyde making them a more gentle option for preservative addition.
C13-14 Isoparaffin
Another Olay Total Effects frequent ingredient is C13-14 isoparaffin, an emollient. It works by softening and smoothing the skin, leaving it looking healthier. It decreases dryness and flaking, according to the Environmental Working Group's Skin Deep online cosmetics database. It also works as a solvent, dissolving ingredients into each other and forming a solution.
Niacinamide
Niacinamide, another name for vitamin B3 and niacin, prevents the skin from losing water. It can stimulate circulation in the skin's layers and increase ceramide, according to Cosmetics Cop. It increases the hydration of the skin and decreases redness. Other benefits of the ingredient are improved skin elasticity and improvement in wrinkle appearance. It is also good for skin discolorations such as brown age spots.
References
Writer Bio
T.M. Samuels has been a freelance writer since 1993. She has published works in "Arthritis Today," "Alabama Living" and "Mature Years," and is the author of a gardening book. Samuels studied pre-medicine at Berry College.
Photo Credits