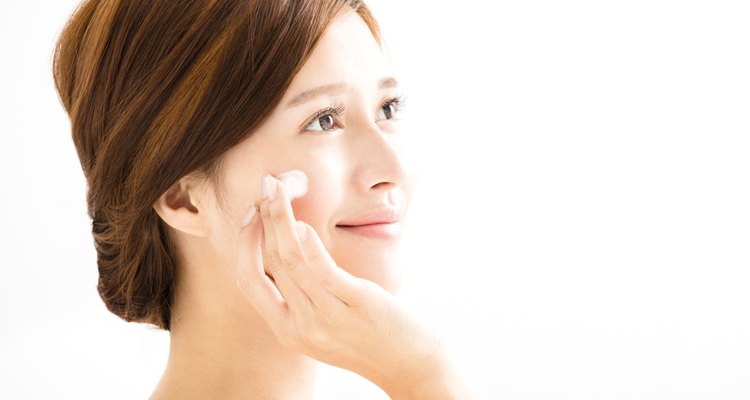 Tomwang112/iStock/Getty Images
Olay's marketing materials say Regenerist lotion will give you "younger-looking skin without drastic measures." The formula is a combination skin moisturizer and sunscreen. Moisturizers can give skin a younger look by minimizing the appearance of fine lines and wrinkles. Doctors recommend daily use of sunscreen to help to prevent skin damage caused by the sun and to help reduce the risk of skin cancer.
Octisalate
The first active ingredient listed on the Olay Regenerist package is octisalate, a chemical protector that absorbs ultra violet rays. The website 3dchem.com reports that octisalate absorbs light with wavelengths from 280nm to 320nm, or nanometers, the full range of UVB rays we get from the sun. It's those UVB rays that are responsible for sunburns.
Avobenzone
Avobenzone is an active ingredient in Olay Regenerist that works to protect skin from the sun's UVA rays. 3dchem.com reports that avobenzone absorbs wavelengths in the UVA range of 320nm to 400nm. UVA rays are a suspected cancer-causing agent.
Octocrylene
Octocrylene is yet another sun protection agent in Olay Regenerist. It offers protection from both UVA and UVB rays. According to 3dchem.com, it offers protection from rays in the range of 250nm to 360nm.
Ensulizole
The last active ingredient listed on Olay Regenerist is ensulizole, which is another sun protection agent. SmartSkinCare.com reports that ensulizole absorbs primarily UVB radiation, but it offers some protection against short UVA rays. It covers a wavelength range of 290nm to 340nm.
Vitamins
Among the other ingredients in Olay Regenerist are a number of vitamins. The label lists niacinamide, which is vitamin B-3 and ascorbic acid, which is vitamin C. It also includes panthenol, which is pro-vitamin B-5 and tocopheryl acetate, or vitamin E.
Amino-Peptide
Olay also touts the amino-peptide in its Regenerist formula for its ability to "visibly regenerate" the skin's appearance. The lotion uses the amino peptide palmitoyl pentapeptide-4. Olay's ingredient analyzer says amino-peptides help to counter the effects of aging by working deep within the skin to help to promote tissue regeneration. SmartSkinCare.com says more independent research is needed to verify the ingredient's anti-aging properties.
Other Ingredients
Olay Regenerist contains a number of other ingredients such as water, glycerin and dimethicone that contribute to the lotion's feel. It includes a fragrance to give the lotion its particular scent. Olay also adds camellia senesis leaf extract, or green tea, for its anti-oxidant properties. A complete list of ingredients is available at the Olay Regenerist website.
References
Writer Bio
Carol Ochs is an award-winning writer in the Washington, D.C. area. During 17 years with The Associated Press she covered health, medical and sports stories as a writer, editor and producer. She has written for the health section of "The Washington Post," a Fairfax County stewardship publication and a biopharmaceutical newsletter. Ochs has a Bachelor of Science in journalism from Ohio University, Athens.
Photo Credits
Tomwang112/iStock/Getty Images