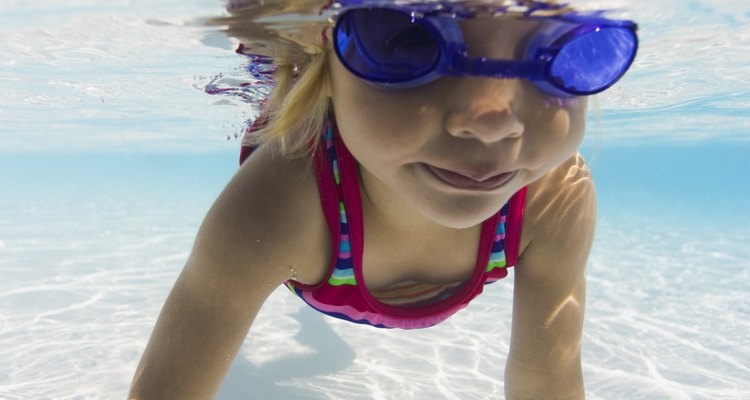 Photodisc/Photodisc/Getty Images
Banana Boat lotion is designed to be waterproof and provide protection from the sun's UVA and UVB rays. The product comes in SPF (Sun Protection Factor) 15, 30, 85 and 100. The difference between these formulations is the amount of the active ingredients the product contains. The manufacturers claim this product is non-greasy and sweat-resistant. Banana Boat lotion contains 31 ingredients.
Active Ingredients
Banana Boat lotion has five active ingredients, all of which are sun-screening agents. The lotion contains the chemical avobenzone in a one percent concentration in the 30 SPF formula. Homosalate is included in a 10 percent concentration, and oxybenzone is included in a four percent concentration for the SPF 30 formula. The sunscreen chemical octisalate appears in Banana Boat lotion in a five percent concentration, while the sunscreen agent octocrylene appears in a 0.80 percent concentration.
Moisturizers
Banana Boat lotion contains four moisturizers to help skin maintain a supple state. Water adds moisture to skin immediately and helps formulate the texture of the lotion. Stearyl alcohol is a natural fatty acid processed from coconuts. It is a moisturizing agent that adds thickness to the lotion. It also acts as an emulsifier, keeping water and fat-based ingredients from separating, according to "Milady's Skin Care and Cosmetics Dictionary."
Glycerin is another moisturizer included in Banana Boat lotion. It is a colorless, odorless substance that draws water from the air to skin. Caprylyl glycol is a coconut-derived skin conditioner, as outlined in "A Consumer's Dictionary of Cosmetic Ingredients."
Emulsifiers and Preservatives
Banana Boat lotion contains a number of water-based and fat-based ingredients. Emulsifiers keep these substances from separating, while preservatives are added to the formula to prevent the possible formation of potentially harmful microorganisms. Behenyl alcohol and cetaryl alcohol are emulsifiers that also act as emollients to keep skin from drying out. Glyceryl stearate citrate, disodium ethylene, dicocamide PEG-15 disulfate, dimethyl capramide and cetearyl alcohol work as emulsifiers. These chemicals also stabilize the formulation to prevent the breakdown of ingredients and add consistency to the product, according to "Cosmetics Unmasked." Lecithin, carbomer, xanthan gum, phenoxyethanol and disodium EDTA act as preservatives. Methyldibromo glutaronitrile, methylchloroisothiazolinone and methylisoptiazolinone are chemicals with anti-fungal, anti-bacterial and anti-microbial effects, as outlined in "A Consumer's Dictionary of Cosmetic Ingredients."
Other Ingredients
Hydrogenated Dimer Dilinoley/Dimethylcarbonate Copolymer is a chemical included in Banana Boat lotion designed to keep the product waterproof. This ingredient allows the product to stay on the skin when exposed to water, resulting in fewer applications throughout the day. Sodium lauroyl sarcosinate and sodium lauroyl lactate are cleansers, removing dirt from the skin. These two ingredients also change how water interacts with Banana Boat lotion. They are part of a chemical class known as surfactants. In addition to these ingredients, Banana Boat lotion also contains aloe vera leaf juice, an ingredient purported to soothe skin from minor scrapes and burns. Two vitamins are included in the formula for Banana Boat lotion: vitamin E and vitamin A. Vitamin E shows up under two different names in two different forms: tocopherol acetate and tocopherol. Vitamin A shows up on the ingredients listing as retinol.
References
"A Consumer's Dictionary of Cosmetic Ingredients, 7th Edition"; Ruth Winter; 2009
"Milady's Skin Care and Cosmetic Ingredients Dictionary"; Natalia Michalun; 2009
"Cosmetics Unmasked: Your Family Guide to Safe Cosmetics and Allergy-Free Toiletries"; Stephen Antczak, Gina Antczak; 2001
Writer Bio
Elizabeth Tumbarello has been writing since 2006, with her work appearing on various websites. She is an animal lover who volunteers with her local Humane Society. Tumbarello attended Hocking College and is pursuing her Associate of Applied Science in veterinary technology from San Juan College.
Photo Credits
Photodisc/Photodisc/Getty Images