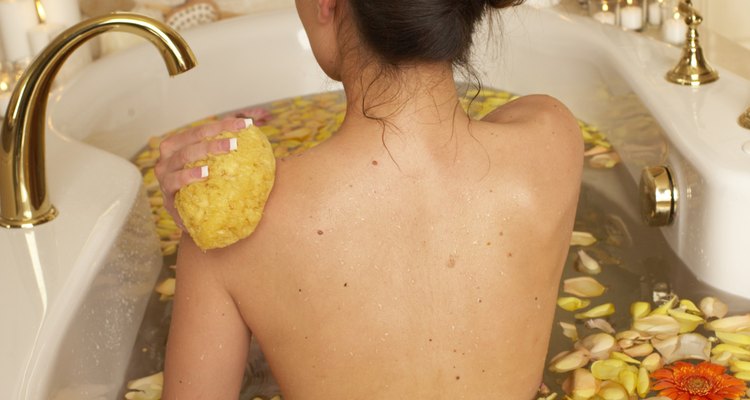 Andrea Chu/Photodisc/Getty Images
Phisoderm is a brand of skin care products manufactured by Mentholatum. The company's website claims it has been recommended by dermatologists for more than 40 years. The products are aimed at restoring the proper pH level to skin, which the website recommends is slightly acidic, between 4.0 and 6.0 on the pH scale. Phisoderm offers 12 products designed for different purposes, from soaps to facial cleansers to moisturizers to baby products.
Anti-Blemish Gel Facial Wash
Phisoderm's Anti-Blemish Gel Facial Wash contains the active ingredient salicylic acid, an anti-inflammatory acne-fighting chemical in a 2 percent concentration. The inactive ingredients include surfactants, cleansers and preservatives. Water, a moisturizer, is also an ingredient that gives the wash texture. Sodium C14-16 olefin sulfonate is a coconut-derived detergent, as noted in "Milady's Skin Care and Cosmetic Ingredients Dictionary." Lauramidopropyl betaine is a chemically altered fatty acid that acts as a surfactant and anti-static agent. Lauryl glucoside is a mild cleanser and surfactant, while sodium chloride, or salt, acts as an abrasive and astringent. Disodium EDTA, DMDM hydantoin, lactic acid, iodopropynyl butylcarbamate and polysorbate 20 are preservatives that extend the shelf life of the product and keep potentially harmful microorganisms from forming in Phisoderm's anti-blemish wash. Phisoderm's anti-blemish wash also lists fragrance as an ingredient. Triethanolamine is included in the wash to adjust the pH level of the product.
Bar Soap
Ten ingredients are listed in Phisoderm's skin cleansing bar soap. Sodium tallowate and sodium cocoate make up the base of the bar soap. Sodium tallowate is an animal-derived fatty cleanser, while sodium cocoate is a cleanser derived from coconut oil. Water adds texture to Phisoderm's bar soap, while glycerin helps the bar soap keep its shape. Glycerin also adds moisture to skin, as it is a hygroscopic ingredient as outlined in "A Consumer's Dictionary of Skin Care Ingredients." Petrolatum, a petroleum-derived chemical, is a heavy-duty moisturizer. Lanolin, culled from sheep's wool, also serves to moisturize skin. Titanium dioxide increases the opacity of the soap and acts as a pigment, giving the soap a pure white base. Pentasodium pentetate and tetrasodium etidronate work as chelating agents, preventing the soap from oxidation. Phisoderm's website states that the skin cleansing bar soap may also contain sodium palm kernelate, a cleanser derived from palm oil.
Daily Moisturizer
Phisoderm's Daily Moisturizer with SPF 15 contains three active ingredients that function as sunscreens. The moisturizer contains avobenzone in a 3 percent concentration, octinoxate in a 7 1/2 percent concentration and octisalate in a 5 percent concentration. The moisturizer also contains 19 inactive ingredients, including water and glycerin. Dicaprylyl carbonate is an emollient and skin-penetration enhancer, according to "Cosmetics Unmasked." Isodecyl neopentanoate also acts as an emollient. Propylene glycol is a moisturizer included in the formula. SD alcohol 40 at 3 percent by weight is listed among the ingredients. SD alcohol 40 acts as a base for the moisturizer and a solvent, allowing ingredients to blend. The similar benzyl alcohol performs the same functions. Ammonium acryloyldimethyltaurate/VP copolymer is a surfactant and emulsifier that keeps the ingredients in Phisoderm's Daily Moisturizer with SPF 15 from separating. Diazolidinyl urea, disodium EDTA, methylparaben and propylparaben are preservatives with anti-microbial properties, as stated by "Milady's Skin Care and Cosmetic Ingredients Dictionary." Potassium hydroxide adjusts the pH level of Phisoderm's moisturizer, while sodium chloride, or salt, keeps the product from separating. Titanium dioxide is a pigment responsible for the moisturizer's white color, and a generic listing for fragrance is included in the ingredient listing. True to advertising, the moisturizer contains vitamins A, C and E under the names retinyl palmitate, tetrahexyldecyl ascorbate and tocopheryl acetate, respectively.
References
"Milady's Skin Care and Cosmetic Ingredients Dictionary"; Natalia Michalun; 2009
"Cosmetics Unmasked: Your Family Guide to Safe Cosmetics and Allergy-Free Toiletries"; Stephen Antczak, Gina Antczak; 2001
"A Consumer's Dictionary of Cosmetic Ingredients, 7th Edition"; Ruth Winter; 2009
Writer Bio
Elizabeth Tumbarello has been writing since 2006, with her work appearing on various websites. She is an animal lover who volunteers with her local Humane Society. Tumbarello attended Hocking College and is pursuing her Associate of Applied Science in veterinary technology from San Juan College.
Photo Credits
Andrea Chu/Photodisc/Getty Images