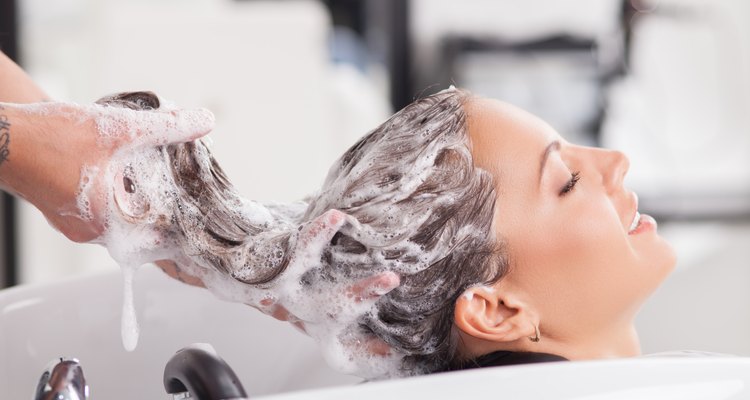 YakobchukOlena/iStock/Getty Images
Joico's website reports that its K-Pak shampoo has a creamy texture and a nourishing, restorative mixture of keratin and silicone. According to the manufacturers, the ingredients in K-Pak shampoo clean hair and restore elasticity, strength and shine. There are 35 ingredients in Joico's K-Pak shampoo.
Cleansers
Joico K-Pak Shampoo contains five cleansing agents, two of which also serve other functions in the formula. PEG-3 distearate is a cleanser and emulsifier. Sodium chloride, or salt, is a mildly abrasive cleanser and substance used to add thickness to the shampoo. Joico K-Pak Shampoo also contains sodium laureth sulfate, disodium laureth sulfosuccinate and sodium cocoamphoacetate.
Moisturizers
There are eight moisturizing ingredients in Joico K-Pak shampoo. Deionized water adds moisture to hair immediately and adds to the texture of the product. Glycolipids, or fats, provide deep-cleansing properties according to "Milady's Skin Care and Cosmetic Ingredients Dictionary." Cocamidopropyl betaine and sodium lauroyl glutamate function as surfactants, changing how water interacts with Joico K-Pak shampoo. They draw moisture to the hair follicle and allow the shampoo to glide over the locks easily. Guar hydroxypropyltrimonium chloride and tricetylmonium chloride function as conditioners and anti-static agents, preventing hairs from sticking together to give hair a more voluminous, healthy appearance. Glycerin is a hygroscopic moisturizer used in Joico K-Pak Shampoo, drawing moisture from the environment to the hair. Propoxytetramethyl piperdinyl dimethicone is a silicone-based moisturizer used to coat the hair follicle and minimize the appearance of damage, as outlined in "Cosmetics Unmasked," written by Stephen Antczak and Gina Antczak.
Emulsifiers and Preservatives
Emulsifiers keep the ingredients in Joico K-Pak from separating, ensuring a longer shelf life for the shampoo. The C11-15 Pareth-7 and trideceth-6 are two emulsifying agents used in the shampoo. Cetrimonium chloride is listed among the ingredients. It is an emulsifier, but it also functions as a cleanser and antistatic agent. Methylchloroisothiazolinone, methylisothiazolinone and methylparaben are preservatives that keep potentially harmful microorganisms from forming in Joico K-Pak Shampoo. Disodium EDTA and citric acid prevent the oxidation of the shampoo. Butyl methoxydibenzoylmethane and benzophenone-4 are protective ingredients that prevent the sun from spoiling the shampoo. They also function as mild sunscreens when applied to the hair, as mentioned in "A Consumer's Dictionary of Cosmetic Ingredients," written by Ruth Winter.
Additives
True to its advertising, Joico's K-Pak Shampoo contains two keratin complexes. Listed among the ingredients are hydrolyzed human hair keratin (triamine complex) and laurdimonium hydroxypropyl hydrolyzed human hair keratin (cationic triamin complex). These two ingredients restore a natural texture and shine to damaged hair from the outside and inside of the hair follicle, respectively, a process outlined in "The Beauty Brains," written by Sarah Bellum. K-Pak Shampoo also contains thioctic acid, or alpha lipoic acid, a natural antioxidant produced by the body. There are four herbal additives in K-Pak shampoo--guava fruit, or Psidium guajava, evening primrose, or Oenothera biennis, kukui seed, or Aleurites moluccana and aloe vera leaf, or Aloe barbadensis. Two vitamins are included in K-Pak Shampoo-- sodium ascorbyl phosphate and tocopheryl acetate, vitamin C and vitamin E, respectively.
Other Ingredients
Joico K-Pak includes a generic listing for fragrance. Allantoin, a skin-protecting ingredient, is also listed among the ingredients. The shampoo also contains cocamide MEA, a chemical that aids in creating lather and thickens the texture. Hyaluronic acid is primarily a thickening agent, but it functions as a moisturizer and conditioner, also.
References
"A Consumer's Dictionary of Cosmetic Ingredients, 7th Edition"; Ruth Winter; 2009
"Cosmetics Unmasked: Your Family Guide to Safe Cosmetics and Allergy-Free Toiletries"; Stephen Antczak, Gina Antczak; 2001
"Milady's Skin Care and Cosmetic Ingredients Dictionary"; Natalia Michalun; 2009
"The Beauty Brains: Real Scientists Answer Your Beauty Questions"; Sarah Bellum; 2008
Writer Bio
Elizabeth Tumbarello has been writing since 2006, with her work appearing on various websites. She is an animal lover who volunteers with her local Humane Society. Tumbarello attended Hocking College and is pursuing her Associate of Applied Science in veterinary technology from San Juan College.
Photo Credits
YakobchukOlena/iStock/Getty Images