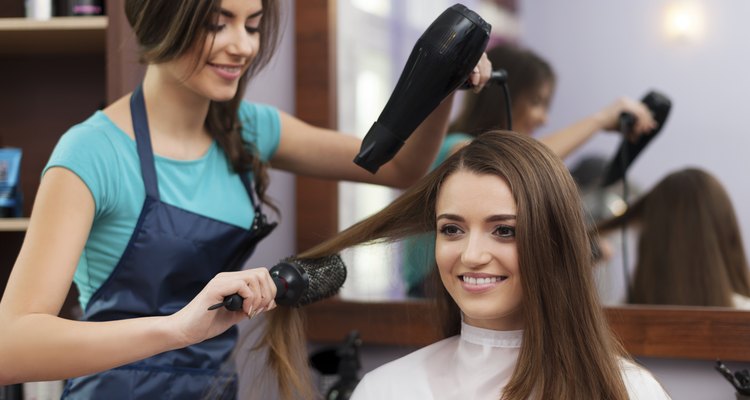 gpointstudio/iStock/Getty Images
Infusium 23's original formula hair care line is referred to as the Repair and Renew line. Included in this line is the original leave-in conditioner. Infusium 23's leave-in conditioner contains 38 ingredients. The product's label claims that Infusium 23 repairs and restores hair's health and shine by imparting vitamins and nutrients directly to the hair's cuticle.
Moisturizers
Water is a moisturizer and viscosity-increasing agent used in Infusium 23. It adds moisture immediately and adds to the product's texture. Amodimethicone and PEG/PPG 18/18 dimethicone are silicone-based moisturizers, according to "Milady's Skin Care and Cosmetic Ingredients Dictionary." The latter also functions as a surfactant, changing the surface tension of water to allow Infusium 23 to remain on the hair. Cetrimonium chloride is used as a topical antiseptic, but also as a moisturizer. When mixed with amodimethicone and trideceth-12, it renders the amodimethicone water-resistant, according to "The Beauty Brains." Betaine is a moisturizer and anti-static agent in Infusium 23. Glycerin and sodium PCA are hygroscopic moisturizers. They draw moisture from the environment to hair. PEG-8 and palmitoyl myristyl serinate are two more emollients included in Infusium 23.
Emulsifiers and Preservatives
Infusium 23 contains chemicals that act to keep oil and water-based ingredients from separating over time. These ingredients, called emulsifiers, include PEG 40 hydrogenated Castor extract and trideceth-12. Hydroxyethylcellulose is an emulsifier but also acts as a film former, adhesive and hair fixative, according to "A Consumer's Dictionary of Cosmetic Ingredients." Citric acid and polysorbate-80 are included in Infusium 23 as preservatives. Citric acid is also a chelating agent, which keeps metal ions from oxidizing the product over time. Disodium EDTA, another ingredient, also works as a chelating agent. Methylparaben is an anti-fungal, anti-bacterial, anti-microbial preservative. DMDM hydantoin is a formaldehyde-based preservative. Both DMDM hydantoin and methylparaben work to extend the shelf life of Infusium 23.
Vitamins and Nutrients
True to advertising, Infusium 23 contains vitamins, amino acids and essential fatty acids. Panthenol, or vitamin B-5, a moisturizer and humectant as stated by "Milady's Dictionary of Skin Care and Cosmetic Ingredients." Among the amino acids included in Infusium 23 are serine, glycine, glutamic acid, arginine, threonine, lysine, alanine and proline. Amino acids help to restore an appearance of health to hair. Hair is also given a healthy appearance by essential fatty acids, similar to the body's own oil, sebum, which gives hair a shiny, soft texture. Behenic Acid is an essential fatty acid. Other fatty acids found in Infusium 23 are oleic acid, palmitic acid, linoleic acid, stearic acid and arachidic acid,
Other Ingredients
Polyquaternium 11 coats hair follicles to keep them from sticking together for a fuller, more voluminous appearance. PEG-8/SMDI copolymer works in the same manner. Sorbitol is included in Infisum 23 to prevent moisture loss. PPG-2 methyl ether is a solvent, as outlined in "Cosmetics Unmasked." It allows certain ingredients to mix in Infusium 23. Aminomethyl propanol adjusts the pH level of the product and protects Infusium 23 from becoming too acidic or alkaline over its shelf life. A non-specific listing for fragrance indicates synthetic or natural scents are included to give Infusium 23 its smell.
References
"The Beauty Brains: Real Scientists Answer Your Beauty Questions"; Sarah Bellum; 2008
"A Consumer's Dictionary of Cosmetic Ingredients, 7th Edition"; Ruth Winter; 2009
"Milady's Skin Care and Cosmetic Ingredients Dictionary"; Natalia Michalun; 2009
"Cosmetics Unmasked: Your Family Guide to Safe Cosmetics and Allergy-Free Toiletries"; Stephen Antczak, Gina Antczak; 2001
Writer Bio
Elizabeth Tumbarello has been writing since 2006, with her work appearing on various websites. She is an animal lover who volunteers with her local Humane Society. Tumbarello attended Hocking College and is pursuing her Associate of Applied Science in veterinary technology from San Juan College.
Photo Credits
gpointstudio/iStock/Getty Images