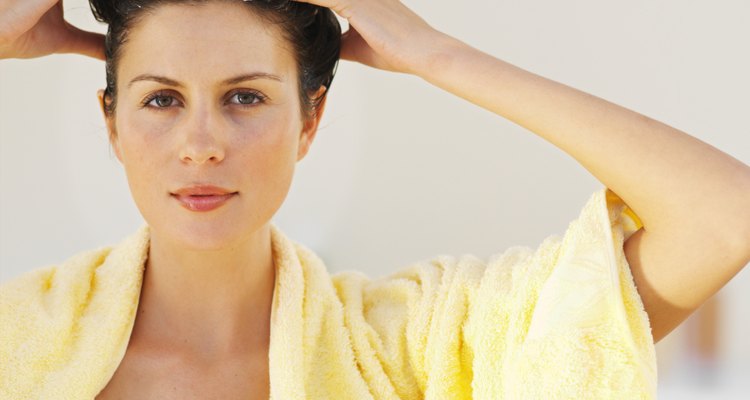 Stockbyte/Stockbyte/Getty Images
Nexxus claims to have been making products that provide salon-quality hair care for over 30 years, and they are never tested on animals. Nexxus Therappe shampoo is intended to provide intense moisture to dry hair. The product lists almost 40 ingredients, many of which are natural moisturizers. If you suffer from dry, frizzy hair, you may want to consider trying Nexxus Therappe shampoo.
Water
Similar to many shampoos, Nexxus Therappe lists water as the main ingredient. The water acts as a solvent within which all other products will be dissolved. According to information provided by CosmeticsInfo.org, only distilled, purified water can be used in the making of beauty products.
Sodium Laureth Sulfate
An important component of shampoo is sodium laureth sulfate. This chemical is the second ingredient in Therappe shampoo and is a surfactant which helps to clean your hair and rid it of oils. Sodium laureth sulfate gives the shampoo its foaming and lathering properties. A second ingredient which increases foaming properties is Cocamide DEA (diethanolamine).
Panthenol
Panthenol comes from vitamin B5 and helps to make your hair appear fuller and shinier. If your hair has been damaged by heat or chemicals this ingredient may help to improve its texture.
Polyquaternium-10
Polyquaternium-10 is an important ingredient in shampoo, especially if you have chemically or heat damaged hair. The ingredient reduces static electricity and, like Panthenol, improves hair texture. The protein structure of hair absorbs this compound well.
Natural Ingredients
Among the long list of ingredients in Nexxus Therappe shampoo exists a number of natural ingredients. They include honey, nettle extract, rosemary leaf extract, bark extract, matricaria flower extract, wheat flour lipids, avocado oil and soybean sterols. These natural ingredients have a wide range of functions in shampoo, such as acting as antimicrobial agents, humectants, hair and skin conditioners; some are there to provide additional fragrance.
Preservatives
Preservatives are added to cosmetic products to allow for a long shelf-life. Therappe shampoo contains multiple preservatives, including methylchloroisothiazolinone, methylisothiazolinone, propylparaben, methylparaben. The preservatives help to prevent growth of mold and bacteria in your shampoo.
Sun Protection
Among the final few ingredients in Nexxus Therappe shampoo are ethylhexyl methoxycinnamate and butyl methoxydibenzoylmethane. These two ingredients help to protect your hair from sun damage. They are used in sunscreens and other products to absorb the harmful UV rays. You may see butyl methoxydibenzoylmethane listed in sunscreens as "avobenzone."
Vitamin E
Tocopheryl Acetate, a derivative of Vitamin E, is the final ingredient listed in Therappe shampoo. This component can act as an antioxidant, preventing damage from harmful free radicals.
References
Writer Bio
Meaghan Massenat works as an instructor for Branford Hall Career Institute's Professional Fitness Trainer program. With a Master of Science in exercise physiology from Florida Atlantic University, she is also certified by the National Strength and Conditioning Association as a strength-and-conditioning specialist. Massenat has been writing about health and fitness since 2007, with articles appearing in "Flavor Magazine" and various online publications.
Photo Credits
Stockbyte/Stockbyte/Getty Images