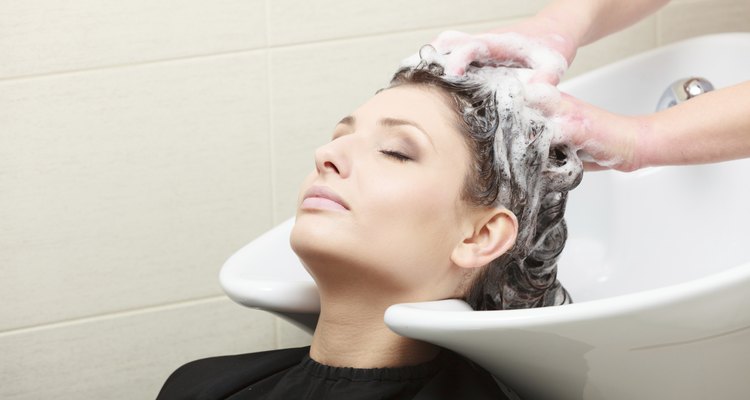 Voyagerix/iStock/Getty Images
Redken shampoos can be found at salons, drugstores and department stores, and there's a Redken shampoo for any hair type. The specific ingredients in different Redken shampoos vary, but the shampoo base is essentially identical for each. Redken shampoos contain cleansers and chemicals to effectively treat a variety of hair problems and conditions. If you are looking for an all-natural shampoo, however, Redken brand shampoos will not qualify.
Water
The first listed ingredient in Redken shampoo is water. This is typical for all liquid shampoos. The other ingredients are water soluble or suspended in the liquid base so they are evenly distributed throughout the product.
Sodium Laureth Sulfate
Sodium laureth sulfate is the second ingredient listed on most Redken shampoos. Sodium laureth sulfate is a mild alkyl compound that makes rich lather in any water hardness. It is known as a gentle ingredient, and is approved for use in baby shampoos. Depending on the concentration, it may be rated as a skin irritant. According to an Oxford University analysis of shampoo ingredients, sodium laureth sulfate is questionable because it can convert to carcinogenic nitrosamines.
Coconut Compounds
Disodium cocoamphodiacetate, sodium cocoamphopropionate, disodium cocoamphoacetate and disodium cocoamphodipropionate are made from coconut oil. They are the fatty acids from coconut oil that act as emulsifiers to lift oil and dirt from the scalp and hair so it can be rinsed away. They also increase lather, and add sheen to hair. The coconut compounds improve the appearance and texture of hair, a help for chemically damaged hair. These compounds are considered safe for cosmetic use, according to Cosmeticsinfo.org.
Parabens
Methylparaben is listed as an ingredient for most Redken shampoos. It is commonly used as a fragrance ingredient or a preservative. Methylparaben has been deemed safe by the FDA for use in cosmetics, according to CosmeticsCop.com. Parabens effectively kill bacteria, molds and fungi that can cause contamination of cosmetics.
According to CosmeticsDatabase.com, testing of the substance methylparaben indicated that it could present allergic reactions, and could cause skin, eye or lung irritation. Methylparaben may be carcinogenic, and it could disrupt endocrine function. It also was found to cause cellular mutations in vitro, and may be a neurotoxin. The tests, however, were for the substance itself, and not specific products that contain it. Conflicting information from CosmeticsCop.com reports that the European cosmetics monitoring association found that parabens are quickly and completely metabolized and present no dangers.
References
Resources
Writer Bio
Fern Fischer's print and online work has appeared in publications such as Midwest Gardening, Dolls, Workbasket, Quilts for Today and Cooking Fresh. With a broader focus on organic gardening, health, rural lifestyle, home and family articles, she specializes in topics involving antique and modern quilting, sewing and needlework techniques.
Photo Credits
Voyagerix/iStock/Getty Images