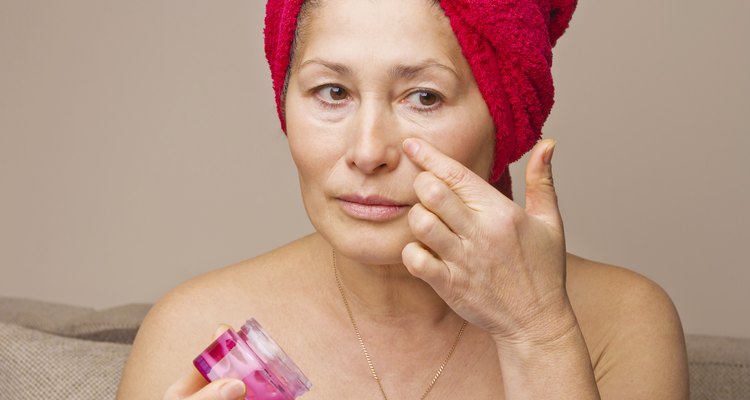 ladi59/iStock/Getty Images
StriVectin SD is marketed as a product that can help get rid of stretch marks and wrinkles, and as an anti-aging cream. It has a long list of ingredients meant to smooth your skin. If your skin is sensitive, or if you have a skin condition, consult a doctor before using this or any new skin care product.
Emollients and Thickeners
The C12-15 Alkyl Benzoate in this product is used as a thickening agent as well as an emollient, advises Paula Begoun, author of "The Original Beauty Bible." Emollients help to prevent water loss in your skin and have a soothing and softening effect on skin. Other emollients in this product include sesame oil, sweet almond oil, stearic acid, searate caprylic/capric triglycerine and shea butter, which also is a rich source of antioxidants, according to Begoun. The cocoa butter in StriVectin is another emollient that has antioxidant action. It helps to promote collagen production and improve skin elasticity, Begoun advises.
Humectants
The glycerin in StriVectin SD is a humectant. Glycerin is used, in part, due to its ability to attract water from your lower layers of skin as well as the environment to increase the amount of water in your skin's surface layer. Glycerin also is a "skin-identical" ingredient. That means it's a substance found naturally in your skin that helps to maintain your skin's outer barrier and to prevent dry or scaling skin, says Begoun. Glyceryl stearate is a glycerin derivative, according to the Cosmetics Info website.
Stabilizers
The propylene glycol and other glycols in StriVectin act as humectants and stabilizers in this product, including the PPG-12, according to the Cosmetics Info website. These help keep StriVectin from melting in high heat or freezing in the cold, and they aid active ingredients in penetrating your skin, says Begoun. Internet buzz and spam emails accuse glycols of being skin irritants that are really industrial antifreeze are unfounded, according to Begoun, who notes that studies prove the minute amounts used in cosmetics are not listed as carcinogens in the Public Health Services Agency for Toxic Substances and Disease Registry. PEG-100 stands for polyethylene glycol. PEG compounds are mixed with fatty alcohols and acids to create a variety of substances that act as binding agents to keep ingredients blended and as emollients and stabilizers, Begoun says. Disodium EDTA also is a stabilizer that prevents ingredients in a cosmetic formulation from binding with minerals and other trace elements.
Vitamins
Tocopheryl acetate is a form of vitamin E known as an "antioxidant superstar" in cosmetic formulations, says Begoun. This helps to protect skin cells against damage by free radicals and oxidative stress such as photoaging, meaning damage from the sun. The tetrahexyldecyl ascorbate is vitamin C, another potent skin antioxidant that protects your skin against damage from the sun. Retinyl is a form of Vitamin A, another good antioxidant.
Striadril Complex
This product features a formulation called "Striadril Complex." A top ingredient in the formulation is palmitoyl pentapeptide-3, which is a fatty acid that's mixed with amino acids. The only research that shows a benefit from this substance was done by its manufacturer, who claims it works better than retinol, notes Begoun. The formulation also features phyllanthus emblicafruit extract, which Begoun notes has anti-inflammatory and antioxidant properties, along with the Chinese herb Siegesbeckia orientalis, which has no proven benefit for skin. The palmitoyl oligopeptide in the formulation blends a fatty acid with a number of amino acids and is meant to boost skin cell function and stimulate collagen production. Research on this substance, however, was not conclusive as of 2010, Begoun notes. Research on the bearberry extract in this formulation is more positive, however, proving it has antioxidant as well as antibacterial properties, says Begoun.
Preservatives
DMDM hydantoin is used in this product. It is a formaldehyde-releasing preservative. While some see this as cause for concern, there's actually no higher level of skin reaction in such preservatives than with other preservatives, says Begoun. Iodopropynyl butylcabamate is another preservative in this product. It is active against fungi.
Other Ingredients
Sorbitan olivate is an emulsifier, which keeps ingredients from separating. Xanthan gum is a thickening agent. Triethanolamine is a pH balancer. The peppermint oil in StriVectin may have antimicrobial properties. However, this oil also can be irritating to skin, Begoun advises.
References
Writer Bio
Linda Tarr Kent is a reporter and editor with more than 20 years experience at Gannett Company Inc., The McClatchy Company, Sound Publishing Inc., Mach Publishing, MomFit The Movement and other companies. Her area of expertise is health and fitness. She is a Bosu fitness and stand-up paddle surfing instructor. Kent holds a bachelor's degree in journalism from Washington State University.
Photo Credits
ladi59/iStock/Getty Images