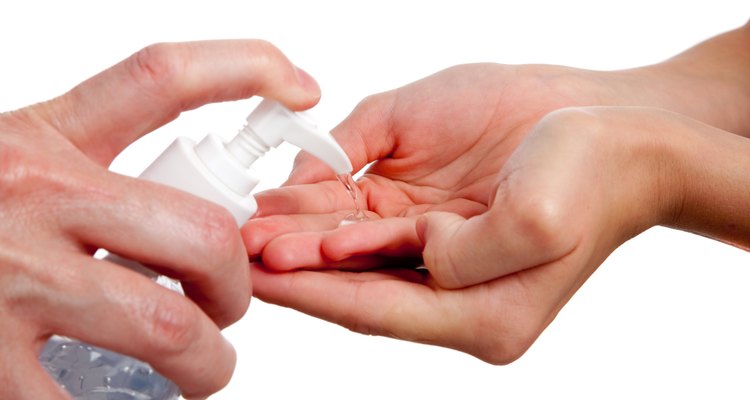 miflippo/iStock/Getty Images
Germ X Hand Sanitizer is a hand gel that is used for waterless "washing" of hands to kill germs on the surface. It is an antiseptic primarily used by those who want to kill germs quickly and cannot wash their hands. For example, it is used in offices, supermarkets and conveniently carried around by moms in their purses. Other than water and fragrance, there are five ingredients to the original formula Germ X Hand Sanitizer.
Active Ingredient
The formula is 63 percent ethyl alcohol. This is an antiseptic that has a drying effect so that the gel will dry quickly, according to Cosmetics Cop. This intense drying effect may cause possible irritation due to the high concentration of the alcohol.
UV Absorber
There is a form of sunscreen in the Germ X original formula. This UV absorbing agent, benzophenone-4, is also a UV filter, according to Environmental Working Group's Skin Deep database. Sunscreens work by blocking and scattering the sun's rays so that they will not affect the skin.
Film Former
Film-forming agents create a film on the surface area of the skin to create a smooth surface for the product to glide across, creating a more even coverage, according to the Skin Deep database. The film-forming agent in this sanitizer is acrylates/c10-30 alkyl acrylate crosspolymer.
Antioxidants
The hand sanitizer lists vitamin E and tocopherol, which is another form of vitamin E, in its ingredients. Both are skin antioxidants, according to Cosmetics Cop. They help fight free radical damage on the skin caused by oxidative stress from UV rays. This may reduce skin thickening and wrinkling.
Humectant
Humectants help moisturize and retain the water in skin to make it appear healthier with less flaking and peeling. Glycerin is the humectant in this hand sanitizer, according to Cosmetics Info. It is also a skin protectant that helps shield the skin from irritants.
References
Writer Bio
T.M. Samuels has been a freelance writer since 1993. She has published works in "Arthritis Today," "Alabama Living" and "Mature Years," and is the author of a gardening book. Samuels studied pre-medicine at Berry College.
Photo Credits
miflippo/iStock/Getty Images