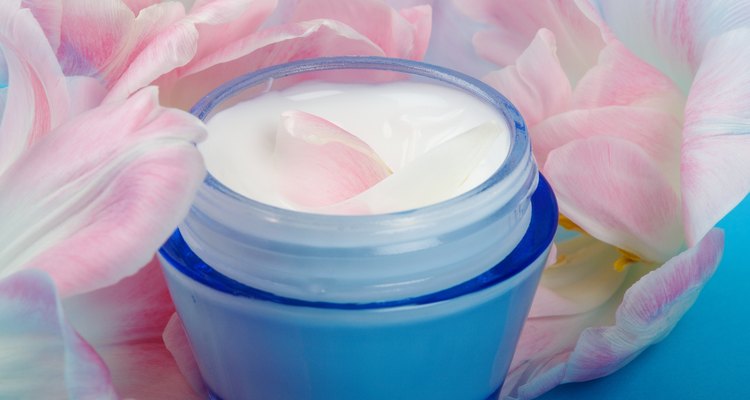 Vendula Plackova/Hemera/Getty Images
Sensitive skin types and conscientious shoppers need to know if the ingredients in Oil of Olay moisturizers are right for them. Oil of Olay skin-care products include general moisturizing lotions and those formulated for strategic use on certain areas of the face and body. Cosmetic products such as Active Hydrating Beauty Fluid and Complete All Day UV Moisture Cream have series formulas for various skin types, including sensitive skin. Many of these share some of the same product ingredients that are found in the original varieties.
Primary
The surface of your skin is subject to evaporation, so it needs a constant supply of moisture. Primary product ingredients in moisturizing lotion are meant to hydrate the skin. Water and mineral oil, while used as solvents for the other product ingredients, have moisturizing properties in their own rights.
Oil of Olay Active Hydrating Beauty Fluid, the manufacturer's original moisturizer, has a high water, mineral oil and glycerin content. Glycerin is a humectant that does the bulk of the hydrating work. When applied to the outer layer of the epidermis, or stratum corneum, it draws water to it and holds it there.
Secondary
Emollients and occlusive product ingredients also make moisturizing lotions effective. Occlusives restrict evaporation by forming a skin/air barrier. Occlusive agents in Oil of Olay Active Hydrating Beauty Fluid include cetyl palmitate, petrolatum and dimethicone.
Emollients lubricate the skin and make it supple and smooth. Dry and sensitive skin respond well to this action. Emollients in the original moisturizer include potassium hydroxide, glyceryl hydroxystearate and octyldodecyl myristate. Mineral oil and glyceryl hydroxystearate have both emollient and occlusive effects.
Active & Miscellaneous
Active ingredients in Oil of Olay Complete All Day UV Moisture Cream are included to absorb UV rays that are harmful to skin tissue. The active ingredients for sun protection are octisalate (5 percent), avobenzone (3 percent) and homosalate (2.6 percent). Additional ingredients in moisturizing lotions include stabilizers, emulsifiers, fragrance, color and preservatives. These are the items most likely to irritate sensitive skin. They are chosen to produce a pleasant-looking and pleasant-smelling product that won't separate during its long shelf life.
Stabilizers in Oil of Olay Active Hydrating Beauty Fluid include carbomer and cetyl alcohol. Acrylates are used as emulsifiers. Preservatives include DMDM hydantoin and iodopropynyl butylcarbamate. This product contains no formaldehyde, but does have red #4, a color approved by the Food and Drug Administration for safety. You'll find related ingredients, along with fragrance but minus the color, in Oil of Olay Complete All Day UV Moisture Cream.
References
Writer Bio
Nancy Clarke began writing in 1988 after achieving her Bachelor of Arts in English and has edited books on medicine, diet, senior care and other health topics. Her related affiliations include work for the American Medical Association and Oregon Health Plan.
Photo Credits
Vendula Plackova/Hemera/Getty Images