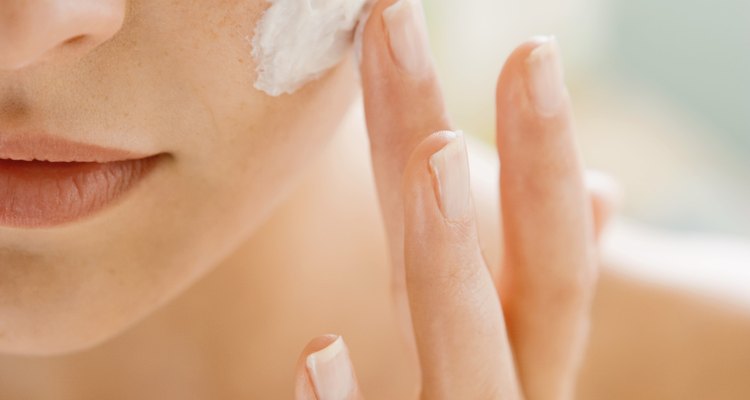 Jupiterimages/Pixland/Getty Images
Although they are frequently sold together, makeup and skincare products serve very different purposes. If you're trying to decide between a makeup primer and lotion, there's no need to choose just one -- makeup primer and lotion are entirely distinct, each with unique ingredients and different functions.
Two Is Better Than One
Face products are designed to maintain the skin and treat various conditions. Lotion is specifically used to hydrate and is absorbed by the upper layers of your skin. A primer, on the other hand, is designed to maximize makeup products, such as foundation or eyeshadow. It works as a base coat, sitting on top of the skin to create a smooth surface. Many primers use ingredients such as silicone, silica, talc and kaolin to achieve their effects. This makes for more even application, prevents makeup from settling into fine lines and wrinkles and significantly increases wear time. Some primers are designed to reduce shine from oil secretion, in which case they may have a drying effect on your skin. If you have dry skin and also use foundation, there is room in your beauty routine for both a lotion and a primer -- just make sure the lotion has fully absorbed into your skin before applying your primer.
References
Writer Bio
Sophie Southern has been a freelance writer since 2004. Her writing has been featured in "JPG" magazine and on Zlio.com. Southern holds a Bachelor of Fine Arts in photography from the School of Visual Arts.
Photo Credits
Jupiterimages/Pixland/Getty Images