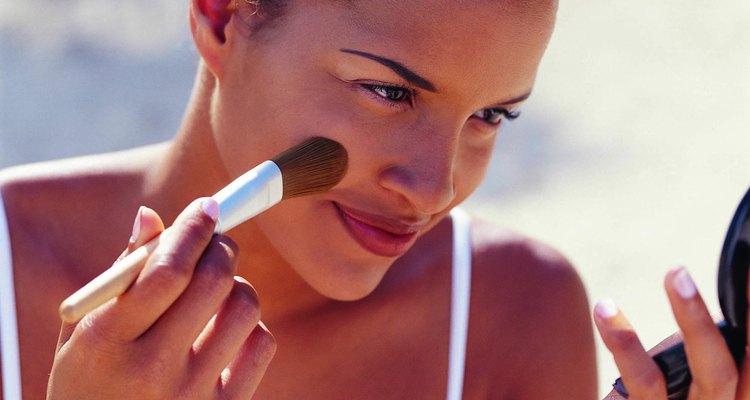 Stockbyte/Stockbyte/Getty Images
Salons and beauty supply shops everywhere sell tinted moisturizer, but it's not always easy to find the perfect shade for your skin. If you have some bronzer and lotion in your makeup bag, try making your own inexpensive tinted moisturizer. This allows you to control the color as much as you'd like. When you wear this golden-brown homemade moisturizer, you'll look like you've spent a day at the beach.
Step 1
Spread a towel over your work surface to protect it from makeup spills.
Step 2
Set a container of bronzer on the towel. Press down on the bronzer with a plastic spoon to turn it into loose powder. If your bronzer is already loose powder, skip this step.
Step 3
Pour a spoonful of the powdered bronzer into a small bowl.
Step 4
Add an equal amount of moisturizer or lotion. If you plan to put this bronzer on your face, use facial moisturizer. If you want to wear it on the rest of your body, use a body lotion instead.
Step 5
Mix the bronzer and lotion with the plastic spoon until a thick paste forms.
Step 6
Dip your finger into the mixture. Apply a dab of the moisturizer to the back of your hand, then rub it in well. If it looks too dark, add a few more drops of moisturizer to the bowl. Mix until blended.
References
Resources
Warnings
This tinted moisturizer may stain your clothing. If you apply the moisturizer to your body, avoid wearing white or light-colored clothes so they don't get stained.
Writer Bio
Melissa King began writing in 2001. She spent three years writing for her local newspaper, "The Colt," writing editorials, news stories, product reviews and entertainment pieces. She is also the owner and operator of Howbert Freelance Writing. King holds an Associate of Arts in communications from Tarrant County College.
Photo Credits
Stockbyte/Stockbyte/Getty Images