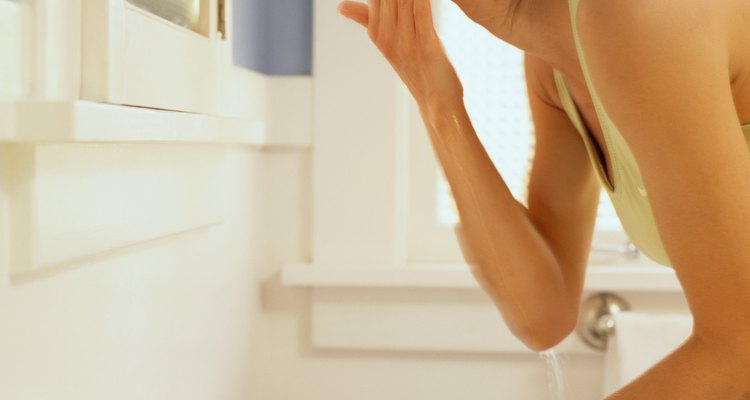 Ryan McVay/Photodisc/Getty Images
Cleaning your face is a necessity, but what's unnecessary is using store-bought facial cleansers. Mix up a sweet-and-sour facial cleanser with things from your kitchen pantry: honey, lemon juice and olive oil. Honey locks in moisture and is a natural antibiotic that heals the skin, lemon juice evens out skin tone and fights acne, and olive oil gives your skin a big dose of moisture. Whether your skin is acne-prone, dry, oily or even sensitive, you can mix these three healthful power foods to create an all-natural cleanser for your face.
Step 1
Pour 1 teaspoon of lemon juice into a small bowl. You can use the juice of a fresh lemon or concentrated lemon juice from a bottle.
Step 2
Add 1 teaspoon of honey to the lemon juice, and stir well with a spoon until the honey blends in with the lemon juice.
Step 3
Mix in 1 teaspoon of olive oil, and stir all three ingredients until they are thoroughly combined.
Step 4
Store any leftover cleanser in an air-tight container. If using freshly-squeezed lemon juice for your cleanser, use it within three to five days. If bottled lemon juice was used, use the cleanser within three months. For maximum freshness, store the cleanser in the refrigerator regardless of which type of juice you used. If the cleanser has hardened a bit from refrigeration, warm it in the microwave for 15 to 30 seconds to soften the texture.
References
Resources
Tips
When you're ready to use the cleanser, use your fingers to massage it over your face for about a minute, avoiding the eye area. Rinse your face with a warm washcloth, pat dry with a towel and apply moisturizer to your skin.
If you're looking for an exfoliating facial cleanser, grind three almonds in a blender and add that to the honey, lemon juice and olive oil.
Writer Bio
Kimbry Parker has been writing since 1998 and has published content on various websites. Parker has experience writing on a variety of topics such as health, parenting, home improvement and decorating. She is a graduate of Purdue University with a Bachelor of Arts in organizational communication.
Photo Credits
Ryan McVay/Photodisc/Getty Images