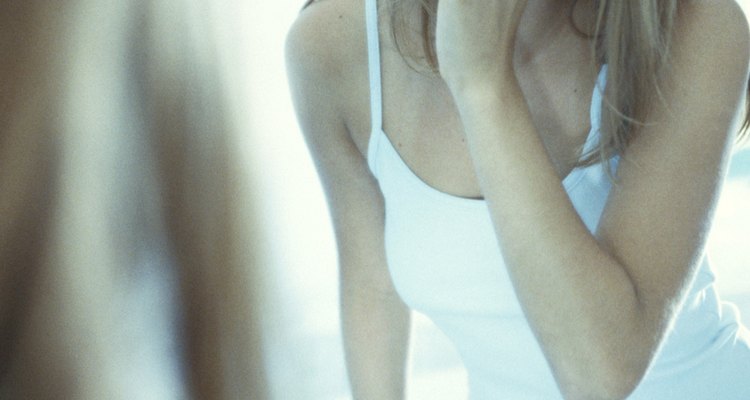 Pixland/Pixland/Getty Images
Acne — no matter how mild or severe — can lead to scarring on areas such as the face, neck, back, chest and shoulders. Acne scars can make you feel self-conscious and uncomfortable in your own skin. For sensitive skin, over-the-counter medications can be harsh and drying. If your skin is sensitive and you are looking to get rid of acne scars, give home remedies a try.
Wash your face regularly. Wash twice a day using water and a mild facial cleanser. This can help prevent the buildup of dirt, oil, makeup and bacteria on your skin, giving you a smoother complexion.
Apply a few drops of vitamin E oil to each scar. Use twice a day for results within a month or two. Vitamin E can help reduce redness.
Grind up one clove of garlic. Mix with a tablespoon of water to create a paste. Apply paste to your skin immediately following your normal skincare routine. Leave the paste on for 15 minutes. Rinse with water.
Warm honey in the microwave. Zap a few tablespoons of honey for 15 to 20 seconds or until warm. Massage the honey on the scar. This can also help moisturize your face.
Mix a few drops of rosewater and sandalwood powder with 1/4 cup of oatmeal. Apply the paste to your face. Leave this mixture on your face for a half an hour. Rinse off with warm water.
References
"Heal Your Skin"; Ava Shamban M.D.; May 24, 2011
Tips
If home remedies fail and you are uncomfortable with your scars. Consult a dermatologist for further treatment options.
Warnings
Never use any products you are allergic to in order to help reduce acne scars.
Writer Bio
Michelle Zehr started writing professionally in 2009. She has written on health, fitness, fashion, interior design, home decorating,sports and finance for several websites. Zehr possesses a Bachelor of Arts in communication from the University of Pittsburgh, a Master of Arts in professional writing from Chatham University and a graduate certificate in health promotion from California University of Pennsylvania.
Photo Credits
Pixland/Pixland/Getty Images