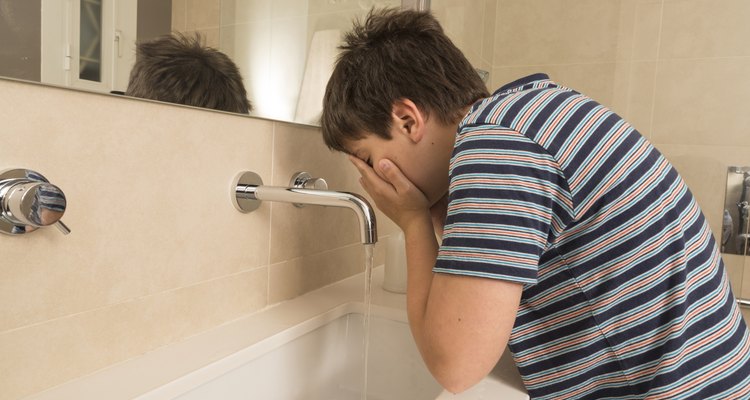 The Proactiv Acne Treatment System consists of three products: Renewing Cleanser, Revitalizing Toner and Repairing Treatment. The Proactiv Deep Cleansing Wash is meant to go one step further than the Renewing Cleaner. The wash is an advanced body and facial cleanser, designed to treat acne blemishes and stop new pimples from forming. Check with your doctor before adding this product to your beauty regimen.
Explanation
The wash is not only used for cleaning your face and helping to keep it acne-free, but you can also use it on the rest of your body. You can shower with the medicated Proactiv Deep Cleansing Wash. Exfoliating beads will remove dead skin cells from your body and the salicylic acid can heal blemishes.
Directions
To use the Proactiv Deep Cleansing Wash on your face, pour out a small amount of the lotion onto your palm. Apply it to wet skin and then thoroughly rinse with warm water. Pat your face dry with a towel. For use in body cleansing, rinse first with water and then pour generously on a washcloth. Apply the cleanser over your entire body. Rinse the skin thoroughly to remove the cleansing wash.
Main Ingredient
Salicylic acid is the active ingredient in Proactiv Deep Cleansing Wash. Salicyclic acid is a keratolytic agent. According to Medline Plus, a division of the National Institutes of Health and the U.S. National Library of Medicine, salicylic acid is used topically to aid in clearing and preventing acne pimples. It works by reducing inflammation and redness, as well as unclogging pores.
Additional Ingredients
In addition to the salicylic acid, Proactiv Deep Cleansing Wash has the botanicals jojoba esters, aloe barbadensis leaf juice and camellia sinensis leaf extract. The product also includes exfoliating beads that help to lift dead skin cells, and leave the skin smooth and soft.
Warning
Use care when using this product along with other topical medications for acne as severe dryness or irritation may occur. If you do have skin problems from using Proactiv Deep Cleansing Wash, stop using it and consult your doctor. Proactiv Deep Cleansing Wash should not be used near lips, mouth or eyes. Get immediate medical attention if you accidentally swallow any of this cleanser.
References
Writer Bio
Marcia Frost is a writer covering travel, food, wine/spirits, and health. She writes for many on and offline publications, including The Daily Meal, Girls Getaway, Travelhoppers, and Princess Cruises.She also has a popular blog, Wine And SpiritsTravel. She has a Bachelor of Arts in journalism from Long Island University.
Photo Credits