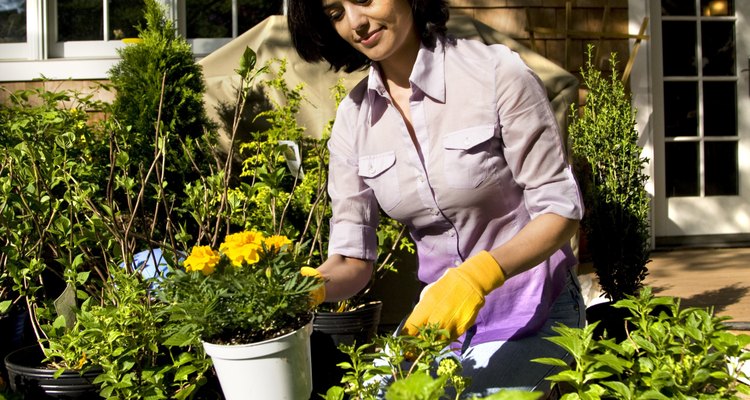 David Sacks/Photodisc/Getty Images
Your hard-working hands just long for a break from the daily beating they take from frequent exposure to water, soap and sunlight. Dry hands with rough, scaly patches also are a result of activities such as gardening, woodworking or housecleaning -- and, of course, normal aging plays a part in the process. To restore your hands to health, get rid of the dead, dry skin, then replace lost moisture to keep your helpers soft and supple.
Step 1
Brush your dry hands in long, smooth strokes from your fingers to your elbows, using a loofah or a natural-fiber brush. Don't rub hard and don't use lotions or oils. Dry brush your hands once or twice every day, before bathing or washing your hands, to slough away dead skin, open your pores and stimulate circulation.
Step 2
Wash your hands with a moisturizing cleanser. Avoid soap, which dries the skin. Pat -- don't rub -- your hands dry with a soft towel.
Step 3
Massage a thick hand cream into your hands five or six times every day. Look for products that contain shea butter, cocoa butter or beeswax.
Step 4
Apply a lotion or cream containing alpha hydroxy acid every night to slough off dry skin cells. Alternatively, slather your hands with a thick coat of hand cream, olive oil or petroleum jelly before bed, then put on a pair of white cotton gloves.
References
Tips
Wear lined rubber gloves whenever you wash dishes or work with chemicals.
Apply a sunscreen to your hands every time you go outdoors. Use a product with an SPF of at least 15. Wear gloves on cold, windy days.
See your physician if at-home methods don't heal your dry, scaly skin. Prescription creams may be more effective.
Writer Bio
M.H. Dyer began her writing career as a staff writer at a community newspaper and is now a full-time commercial writer. She writes about a variety of topics, with a focus on sustainable, pesticide- and herbicide-free gardening. She is an Oregon State University Master Gardener and Master Naturalist and holds a Master of Fine Arts in creative nonfiction writing.
Photo Credits
David Sacks/Photodisc/Getty Images