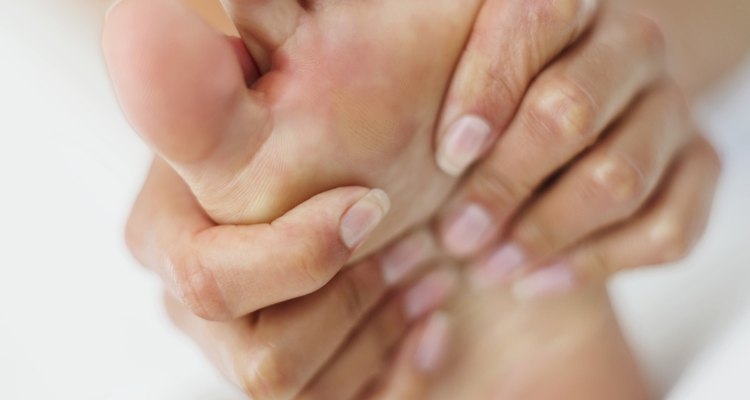 Stockbyte/Stockbyte/Getty Images
Whether it's flip-flop season and your feet are looking a bit rough or it's wintertime and your hands a feeling like sandpaper, you don't have to suffer from embarrassing dry hands and feet. Many factors contribute to dry skin, including the weather, water and overall lack of moisture. If you want your hands and feet to be silky smooth, treat them right with some daily TLC to keep them hydrated.
Give Your Hands a Hand Up
Step 1
Choose a fragrance-free, moisturizing hand soap and avoid using abrasive kinds. Use warm rather than hot water and pat your hands dry with a towel instead of rubbing them.
Step 2
Throw on a pair of rubber gloves when cleaning, washing dishes or submerging your hands in water. This protects your hands from drying out and prevents harsh chemicals from coming into contact with your skin.
Step 3
Load up with moisturizer after washing your hands, showering or doing any other task that leaves your hands wet. Skip the lotions, which are light and not as moisturizing, and opt for hand ointments and creams that contain petrolatum or glycerin.
Step 4
Exfoliate your hands when you notice a buildup of dry, flaky skin. Mix a tablespoon of sugar with a few drops of olive oil and use it to scrub your hands for about two minutes. Rinse it off and pat your hands dry. Follow up by moisturizing your hands well while they are still slightly damp.
Step 5
Give your hands an overnight moisturizing treatment by applying a thick coating of cream or hand ointment and then slipping a thick pair of cotton socks over your hands. Do this right before bed and when you wake up, remove the socks and your hands will be soft and smooth.
Step 6
Protect your hands from the elements. Wear gloves during the cold winter months to prevent dryness and chapped skin from the cold temperatures.
Take Care of Your Tootsies
Step 1
Wear shoes that fit properly. Shoes that are too big or too tight cause friction, which can lead to calluses on the feet.
Step 2
Wash your feet every day with warm water and mild soap. Avoid using hot water, which dries out the skin. Exfoliate your feet while washing by using a loofah, washcloth or pumice stone to get rid of dead, flaky skin.
Step 3
Dry your feet well after washing. Apply a moisturizing foot cream immediately after washing to relieve dryness and lock in moisture. Use a moisturizing foot cream at least twice a day to keep the skin hydrated.
Step 4
Mix up a foot soak when you notice your feet are becoming especially rough and dry. Put your feet in a tub or basin so they're covered with warm water. Add 1/4 cup white vinegar and soak for 10 to 15 minutes up to three times per week. Exfoliate after soaking. Dry thoroughly and moisturize.
Step 5
Treat your feet to an intense overnight moisturizing treatment. Mix 1/4 cup olive oil and a few drops each of white vinegar and honey in a bowl. Smooth the mixture onto your feet. Wrap your feet in plastic wrap and slip on thick cotton socks before heading to bed. Take off the socks and plastic wrap the next day and exfoliate, dry and moisturize your feet.
References
Writer Bio
Kimbry Parker has been writing since 1998 and has published content on various websites. Parker has experience writing on a variety of topics such as health, parenting, home improvement and decorating. She is a graduate of Purdue University with a Bachelor of Arts in organizational communication.
Photo Credits
Stockbyte/Stockbyte/Getty Images