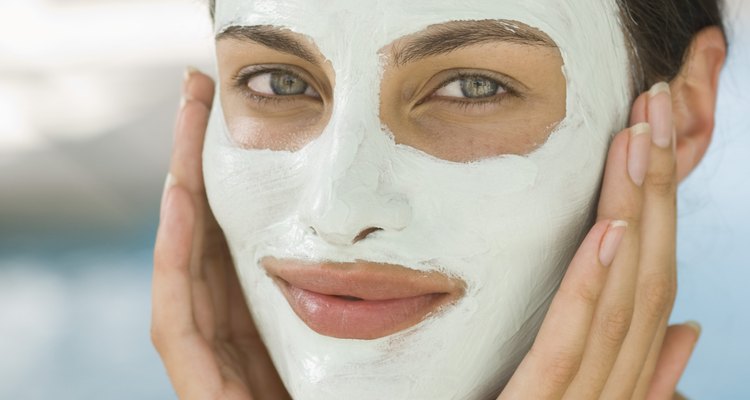 Jupiterimages/Pixland/Getty Images
While a hot, humid climate may save you from a winter of shoveling snow, it can wreak havoc on your skin. The extra heat and moisture in the air can lead to an overproduction of oil, leaving you with greasy skin. But that doesn't mean you're stuck with a shiny complexion. With the right products, you can keep your skin fresh and clear no matter how hot and humid it gets.
Keep It Clean
To keep your face from looking like an oil slick, cleanse it properly. Choose an oil-free gel cleanser that can help dissolve the grease on your face. A formula with salicylic acid is an ideal option if you're dealing with oily skin in a humid climate because it helps to exfoliate both inside the pores and on the skin surface to prevent acne. Look for a cleanser with a 2-percent salicylic-acid content so you won't dry out the skin. Use your cleanser morning and night to keep skin clear and free of shine.
Soak Up Oil
Even if you start the day with clean, shine-free skin, the heat and humidity can make your face greasy by mid-day. To prevent shine from breaking through, apply a mattifying product to your face before you smooth on your moisturizer, sunscreen and makeup. A mattifying product contains ingredients like talc and silicone polymers that actually absorb excess oil, so it doesn't create shine on your face. You can find these products in a variety of formulas, but lotion and gel mattifiers are usually the best option for hot, humid weather.
Be Careful with Moisturizer
If your skin overproduces oil in a humid climate, you don't necessarily need to apply a moisturizer during the day because your skin is likely to retain its natural moisture. Instead, rely on a broad-spectrum sunscreen to protect your skin from the sun and provide some additional moisture to the skin. Choose an oil-free formula to keep your skin from getting greasy. Mineral-based sunscreen is an ideal option in hot, humid climates because minerals like micronized zinc and titanium dioxide can actually absorb excess oil. Make sure to choose a waterproof sunscreen as it will hold up better if you sweat. Use a sunscreen with an SPF of 15 or greater year-round, even on cloudy days.
Give Yourself Weekly Facials
To further help absorb oil and keep your pores clear, give your face some weekly TLC with a facial treatment. Once a week, exfoliate your skin with a gentle facial scrub to remove dead skin cells that can clog pores and cause acne. Choose an oil-free formula containing round beads as these are gentler on your skin than harsh grains are. Follow up with a clay-based mask to help absorb oil. You can opt for a formula that contains salicylic acid if you really want to clear out your pores.
References
Writer Bio
Based in New York City, Jennifer Blair has been covering all things home and garden since 2001. Her writing has appeared on BobVila.com, World Lifestyle, and House Logic. Blair holds a Bachelor of Arts in Writing Seminars from the Johns Hopkins University in Baltimore, Maryland.
Photo Credits
Jupiterimages/Pixland/Getty Images