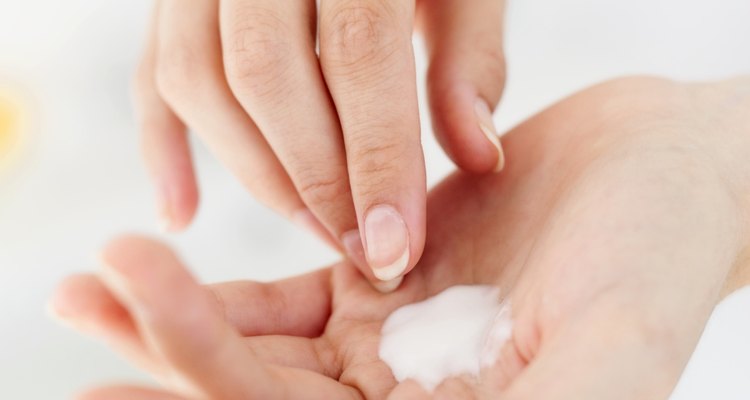 Stockbyte/Stockbyte/Getty Images
If you have a collection of beauty and facial pampering products that you use daily, you'll need to know how to layer these beautifiers on your skin properly. While serums and moisturizers both help to hydrate parched skin, applying these products in the wrong order affects their absorption, penetration and effectiveness.
What Is a Serum?
A serum is a lightweight, gel-based product with a consistency that is less emollient than a moisturizer. Most serums are water-based and have a light and silky feel when applied to the skin. Use a moisturizing serum containing antioxidants in the daytime to protect the skin from pollution and the sun's rays. For evening, smooth on a serum with peptides to rebuild collagen and heal dry skin. Apply your serum to damp skin in the morning and before bedtime to give your skin a boost of extra hydration.
What is a Moisturizer?
A moisturizer contains water-binding agents and emollients to impart a smooth and creamy feel to the skin. Moisturizers can be water- or oil-based, and often contain emollients such as mineral oil, shea butter, plant oils, lanolin and animal oils to prevent evaporation and seal in moisture. If you have dry skin, apply your moisturizer twice a day -- once in the morning and again before bedtime.
Order of Applying Products
Layer your cosmetic products by starting with the thinnest and most lightweight products and ending with the thickest and heaviest ones. After cleansing or exfoliating your face to remove oil and dirt (with a product formulated for your skin type), apply two pea-sized drops of lightweight serum to your face. Follow your serum application with a dime-sized amount of moisturizer. By applying your moisturizer last, you lock in the potent properties of the lightweight serum first and finish with the heavier, hydrating and skin-smoothing product last.
Serum and Moisturizer Considerations and Warnings
When applying serum and moisturizer, wait 15 minutes between applying each product so you won't dilute them. For extra sun protection, apply a moisturizer with a minimum of SPF-30 for daytime use. For nighttime, apply a moisturizer with retinol to even out discoloration and reduce fine lines. If you are using a retinoid at night, never apply it over a serum, recommend the experts at TotalBeauty.com.
Using a combination of too many retinoids, serums, moisturizers or acne-fighting medications can irritate your skin. Before slathering multiple types of beautifiers on your face, check with your dermatologist to determine the right dosage and combination of skin products to moisturize properly and treat your skin type best.
References
"The Complete Beauty Bible: The Ultimate Guide To Smart Beauty"; Paula Begoun; 2002
Writer Bio
Mimi Abney is a lifestyle writer specializing in online content for women. Her work has appeared in NewsOK.com and "Keepsake Magazine," among other publications. With over 15 years of writing and editing experience for the web and print, Abney is also a contributor to online health, beauty and fashion publications. She holds a Bachelor of Science in biology from Spelman College.
Photo Credits
Stockbyte/Stockbyte/Getty Images