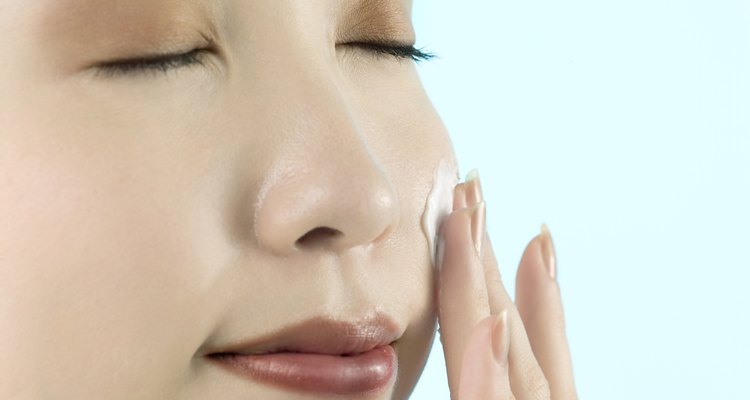 DAJ/amana images/Getty Images
Elizabeth Arden produces a line of moisture creams with ceramide ingredients the manufacturer claims will restore a youthful, supple quality to skin while fighting signs of aging and protecting skin from harmful UV rays. The Ceramide Plump Perfect moisture cream is an all-around moisturizer indicated for use on the face and throat.
Active Ingredients
Elizabeth Arden Ceramide moisturizer cream contains five active ingredients that function as sunscreen, giving the product an SPF rating of 30. The formula contains octinoxate in a 7.5 percent concentration, octisalate in a 5 percent concentration, oxybenzone in a 2.4 percent concentration, octocrylene in a 2.2 percent concentration and avobenzone in a 1.80 percent concentration.
Moisturizers
Elizabeth Arden Ceramide Plump Perfect Moisture cream contains 21 ingredients for the purpose of drawing moisture to the skin. Dimethicone crosspolymer, dimethiconol, cyclopentasiloxane and phenyl trimethicone are silicone-derived moisturizers. Glycerin is the byproduct of soap manufacture. PEG 8 and mineral oil are petroleum byproducts. The cream contains cholesterol, or fat, which acts as a moisturizer and an emulsifier and fat-derivatives called phospholipids and a phospholipid derivative called polyquaternium 51. Sucrose and trehalose are forms of sugar, while urea is synthetically manufactured chemical that mimics the urea found in urine. Urea also acts as an anti-inflammatory substance. butyrospermum parkii extract comes from shea butter, a naturally occurring substance. Isostearyl Neopentanoate is derived from alcohols and acids. Butylene glycol and propylene glycol are moisturizers that are similar chemically. Sodium hyaluronate is the sodium salt of hyaluronic acid. Tocopheryl acetate is a vitamin E derivative. Acetyl hexapeptide 3 is a moisturizing amino acid complex. Sodium PCA occurs naturally in the skin and is the sodium salt of pyrrolidone carbonic acid.
Emulsifiers
Emulsifiers keep oil and water-based ingredients from separating in the container. Elizabeth Arden Ceramide moisturizer contains eight emulsifiers: hydrogenated lecithin, carbomer, polysorbate 60, sodium lauroyl lactylate, stearic acid, cetearyl alcohol and tideceth-6. The product also contains lecithin, which acts as an emulsifier and a moisturizer.
Ceramides
Ceramides form lipids, or fats, to retain moisture and restore suppleness to the skin. Elizabeth Arden Ceramide moisturizer contains three ceramides: ceramides 1, 3 and 6.
Preservatives
Preservatives inhibit the growth of potentially harmful microorganisms in the moisturizing cream. There are 10 ingredients in Elizabeth Arden Ceramide moisturizer designed to extend the shelf life of the product, nine of which prevent the growth of bacteria, fungi and viruses. Propylparaben, methylparaben and phenoxyethanol all work toward this goal. Alpinea Speciosa, or shell-flower extract, is purported to have anti-fungal properties. It also provides a mild fragrance to the cream. Potassium sorbate and benzoic acid keep the product fresh. Chlorphenesin is a preservative and a mild anti-inflammatory substance. Methyldibromo glutaronile and BHT act as preservatives, while triethanolamine prevents the cream from becoming too acidic.
Antioxidants
Vitamins act as antioxidants by absorbing damaged molecules, called free radicals, from the body's system and metabolizing them to prevent damage. Elizabeth Arden Ceramide moisturizer contains five antioxidants: ascorbyl palmitate, retinyl linoleate, retinyl palmitate, tocopherol and squalane, which also acts as a moisturizer.
Texture, Smell, Feel
Several ingredients are included to enhance the appearance and fragrance of Elizabeth Arden Ceramide moisturizer cream. Water adds bulk and viscosity to the product while acting as a moisturizer. Red 4 and Yellow 6 are synthetic dyes that tint the cream light orange. A generic listing for "fragrance" means that synthetic fragrances are used in the product. A natural fragrance, Trifolium pratense flower extract, or clover flower extract, also contributes to the product's aroma. Hydroxypropyl starch phosphate controls the viscosity while polyphosphorylcholine glycol acrylate forms a film on skin to lock in moisture. Acrylamide/sodium acrylate copolymer controls viscosity and works as a film-former. Acrylates/C10-30 alkyl acrylate crosspolymer forms a film, controls viscosity and stabilizes emulsions. Hydroxyethyl acrylate/sodium acryloyldimethyl taurate copolymer functions as an emulsion stabilizer and viscosity controlling agent. Phytosphingosine is included as an anti-inflammatory substance.
References
"A Consumer's Dictionary of Cosmetic Ingredients"; Ruth Winter; 2009
"Cosmetics Unmasked: Your Family Guide to Safe Cosmetics and Allergy-Free Toiletries"; Stephen Antczak, Gina Antczak; 2001
"Milady's Skin Care and Cosmetic Ingredients Dictionary"; Natalia Michalun, Varinia Michalun; 2009
Writer Bio
Elizabeth Tumbarello has been writing since 2006, with her work appearing on various websites. She is an animal lover who volunteers with her local Humane Society. Tumbarello attended Hocking College and is pursuing her Associate of Applied Science in veterinary technology from San Juan College.
Photo Credits
DAJ/amana images/Getty Images