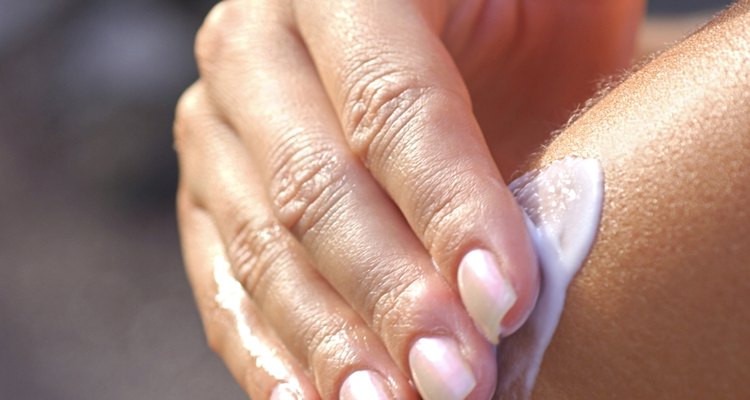 Thinkstock/Comstock/Getty Images
Shea butter is widely used in the cosmetics industry. Formally known as butyrospermum parkii, shea butter is actually a fatty oil derived from African shea tree nuts. While shea butter itself is generally recognized by the Food and Drug Administration (FDA) as safe, other ingredients in related products may cause reactions. Still, you might react to shea butter differently than other users. Use a new shea butter product with caution and call a dermatologist if you experience rashes or other skin irritation.
Shea Butter Facts
Known for its skin softening effects, shea butter has significantly increased in popularity over the last decade. The oil has been used in its indigenous region of Africa for centuries for topical purposes as well as cooking. With its thick texture, shea butter can bind dry cells within the skin and hair to help balance natural oils. It also contains anti-inflammatory properties that make related products favorites among people suffering from dry skin. The cosmetics industry has also utilized the ingredient's water-repelling qualities to create a range of products, including lotions, soaps, hair creams and lipsticks.
Safe Use
Shea butter is one of the safest essential oils around, because it is fat-based. Medline Plus recommends shea butter oil over harsher soaps and cleansers during the dry winter months, as well as for anyone who needs a little extra moisture in her skin. As with any new product, you should consider testing the product on a small portion of your skin to see how you react to it. Shea butter and related products should not be used in the eyes.
Considerations
Pure shea butter is considered safe for most consumers. The problem lies in the fact other ingredients are often used in shea butter products. For example, many shea butter soaps contain alcohol and formaldehyde. Not only do such ingredients directly contradict the softening, moisturizing qualities of shea butter, but they can also wreak havoc on moisture-deprived skin. Read labels carefully to detect potentially drying ingredients. Also, consider looking for products that feature shea butter as one of the first few ingredients, because these more likely contain the most hydrating oils.
Warnings
While uncommon, shea butter may cause allergic reactions in some users. Call your doctor right away if you experience an itchy rash or hives. Discontinue using the product immediately and save the label to show your dermatologist. A severe reaction may also warrant a complaint to the FDA; however, the agency does not regulate shea butter and other cosmetics the way it does with food, so it is best to use unfamiliar brands with caution.
References
Writer Bio
Kristeen Cherney began writing healthy lifestyle and education articles in 2008. Since then, her work has appeared in various online publications, including Healthline.com, Ideallhealth.com and FindCollegeInfo.com. Cherney holds a Bachelor of Arts in communication from Florida Gulf Coast University and is currently pursuing a Master of Arts in English.
Photo Credits
Thinkstock/Comstock/Getty Images