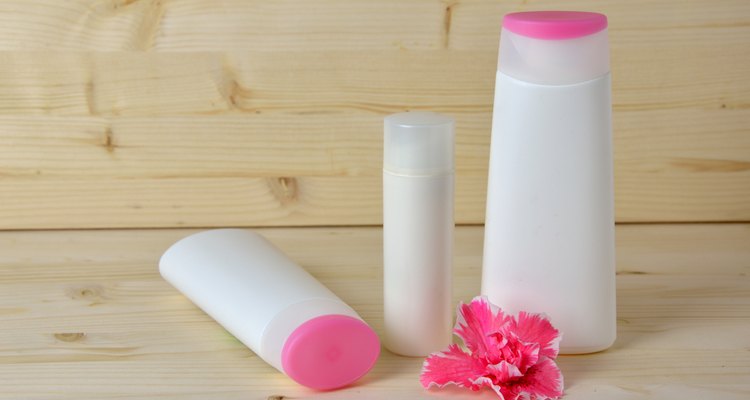 Banepx/iStock/Getty Images
Lancôme manufactures many skin care products. Absolue Premium Bx Cream Cleanser is marketed to replenish, repair and rejuvenate skin. Lancome's website indicates that this product is made with gentle cleansing agents which help eliminate impurities, removing make-up, keeping skin comfortable, supple and soft. Continued use is purported to make skin appear more radiant and luminous.
Solvents
Lancome's Absolue Premium Bx Cream Cleanser contains a variety of solvents. Solvents are compounds in which other ingredients easily dissolve. The solvents in this Lancome cream cleanser include water, paraffinum liquidum, isopropyl myristate, propylene glycol, zea mays, limonene, and benzyl benzoate. Some of these solvents, such as paraffinum liquidum, and zea mays are antistatic. This means they reduce or eliminate buildup of static electricity; in this case, by absorbing moisture from the air.
Emollients
Emollients soften and smooth your skin. Lancome's Absolue Premium Bx Cream Cleanser contains two main emollients; dicaprylyl carbonate and lecithin. Lecithin is mixture stearic, palmitic and oleic acid diglycerides whereas dicaprylyl carbonate is a solid fat. Both leave skin feeling smooth but not greasy.
Moisturizers
Moisturizers prevent and treat dry skin, protect sensitive skin, improve skin tone and texture, and help mask skin imperfections. Lancome's Absolue Premium Bx Cream Cleanser containers two moisturizing ingredients; propylene glycol and lecithin. Both chemicals function to hold water in the outermost layer of your skin. Propylene glycol is a humectant able to absorb water molecules from the air and hold them in your skin, while lecithin is an emollient, filling the spaces between skin cells, helping to replace lipids.
Preservatives
To increase product shelf-life, Lancome's Absolue Premium BxCream Cleanser contains chemical preservatives. These include phenoxyethanol, propylparaben, and methylparaben. They work by preventing or retarding microbial growth.
Antioxidants
Antioxidants work to decrease the oxidative damage caused by other molecules. Direct contact of antioxidants on skin is believed to reduce the signs and effects of skin damage, particularly the damage caused by the oxidative effects of the sun. Lancome's Absolue Premium Bx Cream Cleanser contains lecithin and tetradibutyl pentaerithrityl hydroxyhydrocinnamate, both having antioxidant properties,
pH Adjuster
The pH of the final product is adjusted so that it is neither too acidic nor to basic, otherwise it can be very irritating when applied to the skin. Triethanolamine is added to Lancome's cleanser to adjust the pH of the final product to the desired level.
Fragrance and Pigments
Lancome's Absolue Premium Bx Cream Cleanser includes added fragrances and colors. Fragrances provide a unique scent to the final product, but also serve to mask the odors of other ingredients that may not be desired. In this case, Lancome's cleanser includes iron oxides for pigment and limonen, linaolool, benzyl benzoate, and citronellol as fragrances.
Surfactants
Surfactants lower surface tensions of liquids making them spread more evenly and smoothly. The surfactants in Lancome's Absolue Premium Bx Cream Cleanser include polysorbate 20 and disodium cocoamphodiacetate.
Emulsifiers
Emulsifiers are a special type of surfactant used to keep mixtures evenly dispersed. In Lancome's Absolue Premium Bx Cream Cleanser, the emulsifiers include carbomer, lecithin, chondrus crispus and polysorbate 20.
Plant and other Extracts
Padina pavonica is also known as "peacock's tail" and is a brown alga. According to the Institute of Cellular Phamacology, Padina pavonica accelerates the production of proteoglycans and collagen, helping reconstruct cellular matrices, restoring the look of damaged cells. Dioscorea villosa, also known as Wild Yam relieves inflammation and the phyto-hormones it contains are believed to help restore cellular appearance, particularly in sun damaged or aging skin. Paraffin is a petroleum distillation product used to help thicken liquid ingredients, and Adenosine may be added to act as an anti-inflammatory agent.
References
Resources
Writer Bio
Robin Wasserman has been writing and prosecuting biochemical patents since 1998. She has served as a biochemical patent agent and a research scientist for a gene-therapy company. Wasserman earned her Doctor of Philosophy in biochemistry and molecular biology, graduating from Harvard University in 1995.
Photo Credits
Banepx/iStock/Getty Images