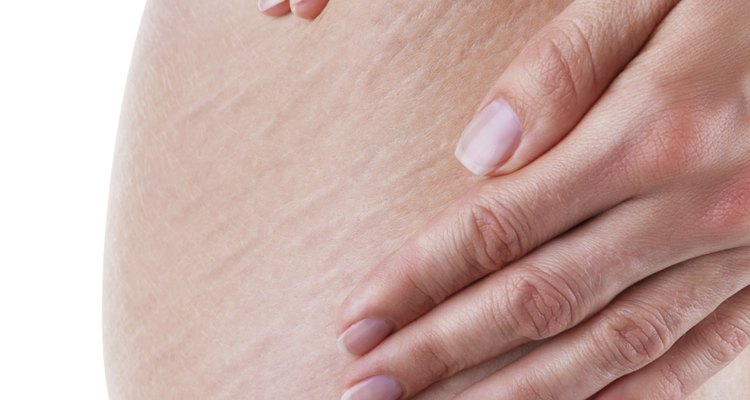 Artem_Furman/iStock/Getty Images
Mederma is a product specifically designed for reducing the appearance of stretch marks and scars. According to the Mederma website, their products are clinically proven to visibly improve stretch marks, smooth and reduce scar appearance in 80 percent of individuals. Mederma makes several products for stretch mark and scar removal. They come in gel or cream form for adult use, as well as a formula for children. Mederma, according to their website, is the No. 1 recommended over-the-counter scar reduction remedy by doctors and pharmacists.
Onion Extracts
Mederma contains four onion extracts used to reduce the appearance of scars and stretch marks: Cepalin, hyaluronic acid, centella asiatica and allium cepa bulb extract. According to PubMed, onion extracts are commonly used in dermatological medicines.
Mederma Stretch Marks Therapy Cream contains all four of the onion extracts, while the remaining Mederma formulas contain only the allium cepa. Cepalin is a trademarked ingredient of Merz Pharmaceuticals. A study published in the March 2010 issue of the journal "SKINmed" notes that hyaluronic acid and centella asiatica were applied to women participants to reduce the appearance of scars. After a 12-week period, scar appearance had distinctive changes to overall appearance, as well as texture and softness. According to ABCHomeopathy, allium cepa is an antibacterial and used to reduce the amount of pain in traumatic and chronic neuritis-an inflammation of nerves.
PEG-4 and Aloe Barbadensis Leaf Juice
PEG-4 is an emulsifier that, according to CosmeticsInfo.org, is used to reduce skin surface tension and to aid in the mixing of oils and water. Aloe barbadensis leaf juice is made from the aloe plant. Aloe contains anti-fungal and anti-bacterial properties and has been used in wound therapy. While not proven conclusively scientifically, aloe barbadensis has shown anti-inflammatory properties and aids in healing of burns or scar tissue.
Other Ingredients
The remaining ingredients listed for all the Mederma formulas are used as emulsifiers, carrier agents, coloring and fragrance. The ingredient list includes purified water, xanthan gum, allantoin, methylparaben, sorbic acid, and fragrance. Purified water is used to mix all the ingredients together and ensures there are no additional properties in the water that may affect the formula. Xanthan gum is used to make the ingredients thicken without getting too sticky or solid. Allantoin aids in obtaining the cream or gel consistency of the formulas. Methylparaben is an antifungal preservative used to reduce bacteria within the ingredients. Sorbic acid is another preservative. Fragrance is added to give Mederma a pleasant smell.
References
Resources
Writer Bio
Loralei Matisse, a writer since age 5, has poetry, articles, websites and stories published in local and national publications. With degrees in nutrition, English, and natural health, she writes about business, politics, animals and wellness. As a certified kundalini yoga instructor and Reiki practitioner, her passion is helping individuals transform their lives from the inside out.
Photo Credits
Artem_Furman/iStock/Getty Images