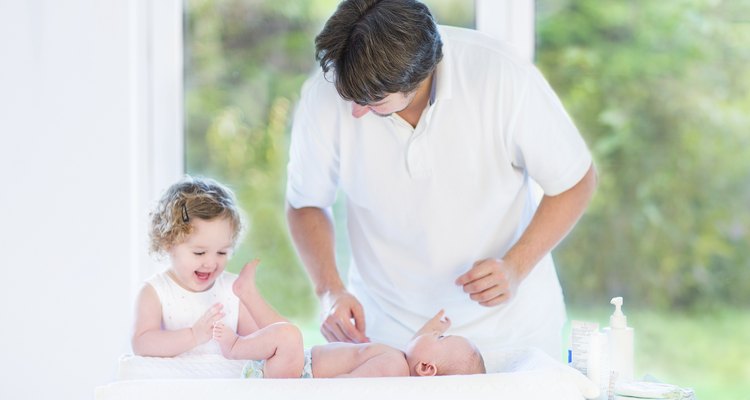 FamVeld/iStock/Getty Images
Triple Paste medicated ointment is used to treat stubborn diaper rash. The paste can also be applied at each diaper change as a preventative measure. It is hypoallergenic and fragrance free. Triple Paste contains no added preservatives and is available over the counter at local superstores and retailers.
The Active Stuff
Zinc oxide--12.8%--is the active ingredient in Triple Paste. It is a white mineral that functions as a skin protectant. Zinc oxide forms a protective barrier between the baby's bottom and the damp, warm environment of the diaper. Irritants such as stool and urine are kept away from the skin, allowing it to heal.
The Extras
The inactive ingredients in Triple Paste diaper cream combine to aid in protecting the skin and also give the ointment its consistency and moisturizing properties. Triple Paste includes white petrolatum, anhydrous lanolin, corn starch, stearyl alcohol, beeswax, bisabolol, cholesterol, water, glycerin, oat kernel extract and polysorbate 80 as inactive ingredients.
Formula
The ingredients that combine to make up Triple Paste are not exactly unique. In fact, many diaper creams contain zinc oxide as the active ingredient. There are less expensive options available, but the formula may not be as effective as the one used by Triple Paste, according to the product's manufacturer. Triple Paste boasts that it only uses premium ingredients in the amounts conducive to clearing up stubborn diaper rash.
References
Writer Bio
Kristine Mills began her freelance writing career in 2010 in order to promote health and wellness. She is a licensed registered nurse, receiving her degree from North Georgia College and State University in 1999. In addition to her nursing degree she also holds a bachelor's degree in business administration with a concentration in organizational psychology and development.
Photo Credits
FamVeld/iStock/Getty Images