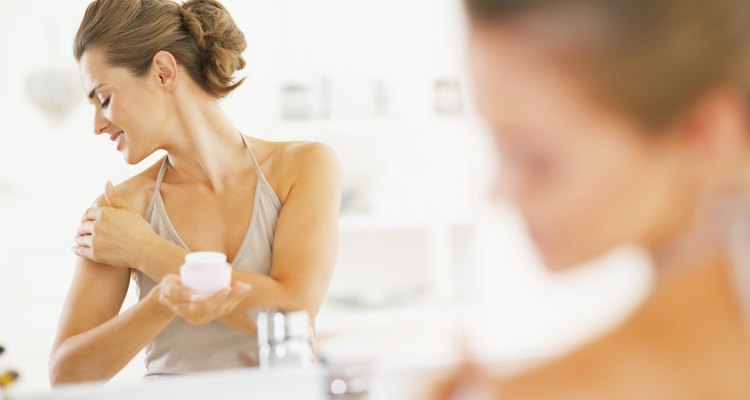 Alliance/iStock/Getty Images
Jergens moisturizers have been available for over 100 years. It is one brand among many from the KAO Brands Company. Jergens Naturals Daily Moisturizers are a newer collection and claim to contain more than 90 percent natural ingredients. There are four varieties of Jergens Naturals Moisturizers for you to choose from: Ultra Hydrating, Skin Renewing, Total Nourishment and Soothing Soft.
Water
Deionized water is the main ingredient in all four Naturals moisturizers. Water used in the formulation of personal beauty products must be void of toxins and microbes. The purpose of water in Jergens Naturals is to deliver the moisture.
Glycerin
Glycerin, a sugar alcohol, can be made synthetically, but Jergens Naturals claims to have derived it naturally from vegetable sources. Glycerin is considered a humectant, which means it maintains moisture in the top layers of the skin by pulling moisture out of the air.
Glyceryl Stearate
Jergens claims to obtain glyceryl stearate naturally through vegetables, and it is a by-product of glycerin and stearic acid. Glyceryl stearate is a wax-like product which acts as a barrier on the skin by keeping water in, and gives the skin a smooth appearance.
DMDM Hydantoin
All four moisturizers contain the preservative, DMDM hydantoin. This non-natural ingredient prevents the growth of yeast and bacteria. The Cosmetic Ingredient Review Expert Panel has deemed the preservative safe for cosmetic use.
Sodium Hydroxide
Sodium hydroxide is a component of the moisturizers added to maintain the pH balance. It is a white solid that has long been used to form soap from fats.
Oils
A variety of oils can be found in each of the Jergens Naturals daily moisturizers. Seed oils that can be found in all four varieties include jojoba seed, sunflower seed and cottonseed oil. Additionally, the Ultra Hydrating moisturizer contains safflower seed and meadowfoam seed oils. The Skin Renewing moisturizer also contains grape seed oil. Other oils include soybean oil, found in all four products, olive oil, olive fruit oil and avocado oil.
Extracts
Dozens of extracts are listed in the variety of Naturals moisturizers. The Skin Renewing product contains blueberry fruit, pomegranate, camellia sinensis leaf, aloe barbadensis, celandine and rosehips extracts. Soothing Soft moisturizer lists chamomile, soybean seed and lavender flower extracts, while Ultra Hydrating moisturizer contains agave plant and cactus extracts. Finally, Total Nourishment consists of cranberry fruit, acai palm fruit, mangosteen peel, acerola fruit, camu camu fruit, goji berry, guarana seed and back currant fruit extracts.
Fragrance
Fragrance is added to each moisturizer to provide you with an enjoyable scent. The ingredient "fragrance" can be synthetic or natural, but Jergens Naturals products do not claim the fragrance ingredient to be natural.
Caramel
Caramel is the final ingredient in all four moisturizers from Jergens Naturals' collection. Caramel is a natural ingredient in many cosmetic products and is added to provide the product with the brown coloring. The heating of edible sugar produces the caramel used in such products.
References
Writer Bio
Meaghan Massenat works as an instructor for Branford Hall Career Institute's Professional Fitness Trainer program. With a Master of Science in exercise physiology from Florida Atlantic University, she is also certified by the National Strength and Conditioning Association as a strength-and-conditioning specialist. Massenat has been writing about health and fitness since 2007, with articles appearing in "Flavor Magazine" and various online publications.
Photo Credits
Alliance/iStock/Getty Images