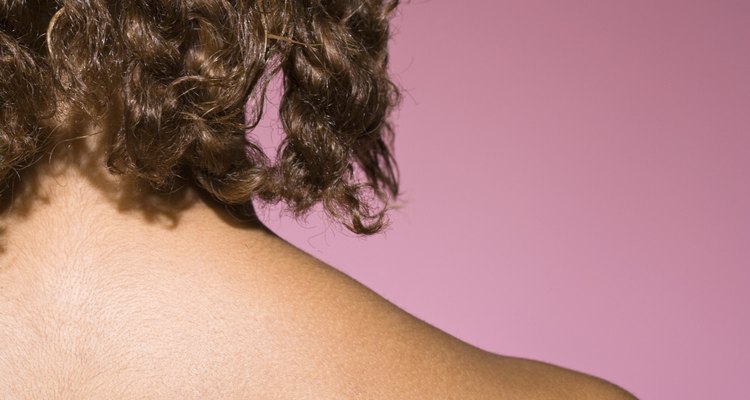 Jupiterimages/Pixland/Getty Images
Curly hair has a tendency to be very dry, often losing its natural shine and moisture in the time it takes to walk out the door. Any time spent defining curls can go to waste, as hair absorbs any hint of nourishment and is left with a rough look. Coarse and curly hair requires care and styling different from any other hair type. It should be washed less in order to retain natural oils, and products should be chosen with care to keep drying ingredients at bay. Return coarse and curly hair to a soft and manageable state with a nourishing haircare routine.
Step 1
Wash your hair with a sulfate-free shampoo. Focus on lathering at the roots and rinse completely. Cleanse every other day if you have fine hair or every three days for thick hair to avoid stripping your hair of natural oils.
Step 2
Coat your hair from roots to tips with a deep conditioner. Formulas containing oils are best for deeply nourishing hair.
Step 3
Allow the conditioner to set for at least 5 minutes and rinse.
Step 4
Blot your hair with a microfiber towel to remove excess moisture without causing breakage.
Step 5
Apply a dime-size amount of leave-in conditioner from mid-length to ends.
Step 6
Comb your hair from root to tip with a wide-tooth comb to remove tangles.
Step 7
Work a golf-ball size amount of moisturizing mousse through your hair, scrunching upward to define curls. Avoid alcohol-based styling products that can dry out your hair and make it stiff.
Step 8
Allow your hair to air-dry in order to retain moisture and softness or dry on low heat while scrunching with a diffuser.
Step 9
Smooth a dime-size amount of hair oil through the ends of your hair to protect it from humidity and seal in shine. Repeat this step throughout the day whenever necessary.
References
Tips
When you have time, put a plastic cap over your hair after applying deep conditioner. Allow it to set overnight and rinse in the morning.
Sleep on a silk pillowcase to cut down on friction and preserve your hairstyle longer.
Comb through hair with your fingers instead of a brush once dry. Brushes can damage and dry out curly hair.
If you find your roots get oily, spritz them with dry shampoo to refresh second- or third-day hair.
Writer Bio
Celeigh O'Neil has been writing professionally since 2008. She has a Bachelor of fine arts from the University of Ottawa, as well as degrees in fashion illustration/design, digital arts and certification in hair and makeup artistry. O'Neil was a frequent contributor to Toronto's "Dialog" newspaper and has worked as an instructional writer, creating lessons in fashion, art and English for students of all ages.
Photo Credits
Jupiterimages/Pixland/Getty Images